SPIEGELWORLD NEW LAS VEGAS PRODUCTION ATOMIC SALOON SHOW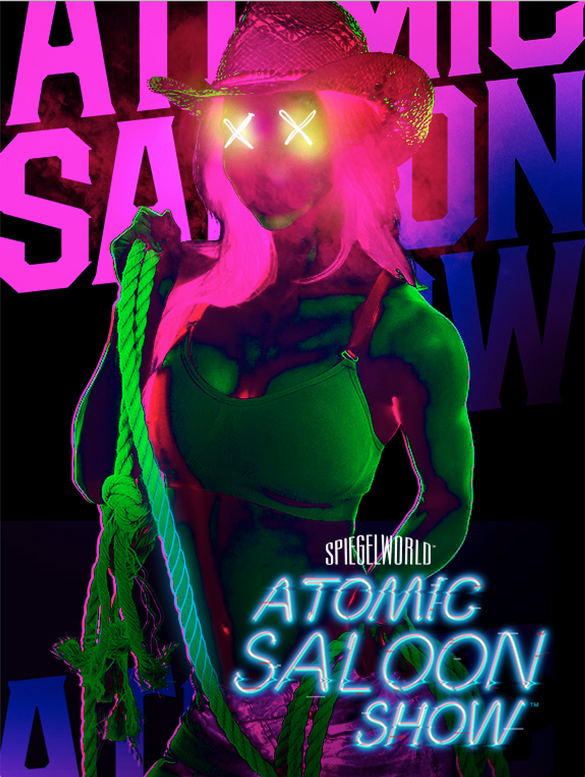 New Show Described as "Blazing Saddles" Meets "America's Got Talent"Meets "Westworld" to Perform in the Kraken Music Hall Following World Premiere at Edinburgh Festival Fringe
Could this become the wildest watering hole in Las Vegas? Her first hotel was acquired by the government as an atomic bomb test site, but, decades later, Boozy Skunktonhas returned to take over the Kraken Music Hall,a hidden saloon bar in the heart of Grand Canal Shoppes at The Venetian Resort. Boozyhas collected the "most abnormally sexy but sensationally amoral" troupe of entertainers on Earth and is determined to create the greatest saloon show the world has ever known.  ATOMIC SALOON SHOW begins Las Vegas performances on Sept. 8,2019.
With an international cast of comic actors, variety acts, and acrobats, ATOMIC SALOON SHOW will take audiences to the Wild West as it never was. Ensuring she can oversee the day-to-day wrangling of her band of misfits, Madam Skunktonhas enlisted the assistance of Spiegelworld and Britain's leading comedy director Cal McCrystal to create the new show that's envisioned as  "Blazing Saddles" meets "America's Got Talent" meets "Westworld."
"When Boozy Skunkton firstset eyes on the long-abandoned saloon, she knew it had the potential to become the most loved intimate venue in Vegas for drinking, dancing, dining and dueling," said Spiegelworld Impresario Extraordinaire Ross Mollison. "We are delighted that she has asked Spiegelworld to help bring her vision to life."
Creators of the long-running hit shows ABSINTHE® and OPIUM™, this will be the first time that Spiegelworld will have three productions playing concurrently on the Las Vegas Strip.
Following the world premiere of ATOMIC SALOON SHOW™ in the Palais du Variété Spiegeltent at the 2019 Edinburgh Festival Fringe in August, the fast, funny, adults-only circus-variety show will immediately embark across the Atlantic to take up a permanent residency at the Kraken Music Hall inside Grand Canal Shoppes at The Venetian Resort.
"As the world's greatest international festival, the Edinburgh Festival Fringe is a perfect partner for us to develop and premiere new comedy work for Las Vegas," added Mollison. "Audiences in both Edinburgh and Vegas are in town for a short time but a good time and expect a show that bolts right out of the gate."
Celebrated by many as "Britain's funniest director," Cal McCrystal is best known as the comedy director of the West End and Broadway hit One Man, Two Guvnors starring James Corden as well as for his comedy direction and role in the deeply moving and hilarious movies "Paddington" and "Paddington 2."
Spiegelworld presents
ATOMIC SALOON SHOW ™
Kraken Music Hall
GRAND CANAL SHOPPES at The Venetian Resort
3327 South Las Vegas Blvd. Las Vegas NV 89109
LAS VEGAS PREVIEW PERFORMANCES BEGIN SEPT. 8,2019
ATOMIC SALOON SHOW will perform Monday and Tuesday at 8 p.m., Thursday through Sunday at 7 p.m. and 9 p.m., with no shows on Wednesday. Performance schedule is subject to change without notice.
Atomic Saloon Show is intended for audiences 18 years of age or older.
Tickets starting at $68 are on sale now at Spiegelworld.com.
PRESS CONTACT
Thomas Judd
Kirvin Doak Communications, 702-737-3100
ABOUT SPIEGELWORLD™
Spiegelworld began creating its immersive entertainment experiences in New York City in 2006, with a spiegeltent village located on a pier in the shadow of the Brooklyn Bridge. In 2011, Spiegelworld opened its award-winning show ABSINTHEat Caesars Palace, which was recently named "the #1 greatest show in Las Vegas history" by Las Vegas Weekly. Spiegelworld has toured its shows to Australia, Japan, Canada, and across the USA. In March 2018, Spiegelworld opened OPIUM at The Cosmopolitan of Las Vegas.
ABOUT GRAND CANAL SHOPPES
Located inside The Venetian Resort ® Las Vegas, the center boasts 160 specialty brands and world-class restaurants nestled around a charming and faithful reproduction of Venice's Grand Canal, complete with cobbled walkways, street side cafes and live entertainment. Signature brands including Nevada's only Barneys New York, Burberry, Fendi, Jimmy Choo, Michael Kors, Louis Vuitton, and Tory Burch create an unparalleled retail environment that includes a star-studded line-up of restaurants headed by famous celebrity chefs: Wolfgang Puck's CUT, Emeril Lagasse's Delmonico Steakhouse, Buddy Valastro's Buddy V's and Carlo's Bakery and Lorena Garcia's CHICA, as well as SUSHISAMBA, Mercato della Pescheria, SUGARCANE raw bar grill and Once, the newest restaurant from famed Los Angeles chef, Ricardo Zarate. The center is also home to entertainment superstars, TAO Asian Bistro & Nightclub, and Lavo Italian Restaurant and Nightclub. For more information, visit www.thegrandcanalshoppes.com.
Follow WebBandStand for everything that is cool that matters.