Journey Latin America Art Tour of Mexico – Works of Frida Kahlo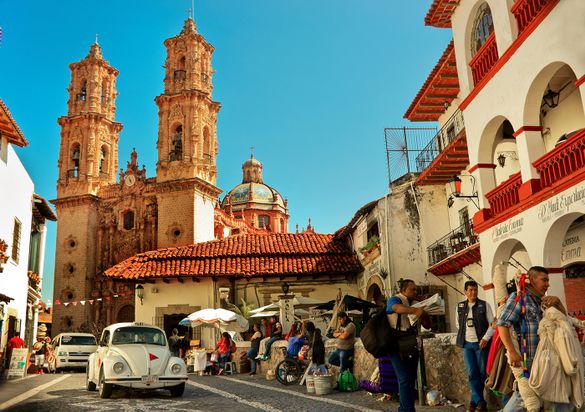 ---
To celebrate the launch of the V&A's upcoming exhibition 'Frida Kahlo: Making Her Self Up', specialist tour operator Journey Latin America has created a new art inspired holiday that follows in Kahlo's footsteps and focuses on the country's modern art scene.
The 'Art of Mexico' is an 8-day holiday that combines four nights in the art-world hub of Mexico Citywith three nights in the charming arty colonial town of San Miguel de Allende.
Enjoy two full days in Mexico City and discover the bohemian quarter of Coyoacán where the  surrealist artist Frida Kahlo was born, lived most of her life and died prematurely. Her former house, Casa Azul, has been converted into a museum and gives an authentic representation of the lives and characters of both Frida Kahlo and her renowned muralist husband, Diego Rivera – in particular it highlights the political strains under which both passionate artists lived and constantly fought.
Another highlight is the Dolores Olmedo Museum, a beautiful 16th century mansion, housing one of the largest private collection of Rivera's and Kahlo's work, donated to the nation in 1994 by the wealthy collector and friend of Rivera, Dolores Olmedo.
The Museo Casa Estudio Diego Rivera y Frida Kahlo studio in San Ángel offers an excellent insight into the lives of Kahlo and Riviera. It comprises two separate buildings – one for each artist – joined by a walkway; Rivera and Kahlo lived in separate areas after they divorced in 1939 and remarried each other the following year.
You may also wish to see an impressive collection at the Museum of Modern Art in Chapultepec which exhibits canvasses by 20th century Mexican artists including Kahlo and Riviera. In addition, the iconic landmark, the Palacio de Bellas Artes in the historic centre displays immense murals by acclaimed Rufino Tamayo, David Alfaro Siqueiros and Diego Rivera.
From Mexico City we spend a full day visiting two of Mexico's colonial and silver towns; Taxco famous for its silver arts and crafts and Cuernavaca home to the Robert Brady Museum. Brady was an American artist and collector who lived in Cuernavaca for 24 years, and his home, a former cloister, hosts the museum. There are several paintings by well-known Mexican artists, including Frida Kahlo, but the main attraction is the sheer size and diversity of the collection.
Depart Mexico City and head four hours by road to the picturesque hillside setting of historical San Miguel Allende. Your base for the next three nights will be at the newly refurbished Belmond Casa de Sierra Nevada. Enjoy your own private art class at the hotel and be taken on a private tour to visit a selection of art galleries and meet the artists.
The 8-day holidays costs £1,728 per person. The price includes first class hotels at the Four Seasonsand Belmond Casa de Sierra Nevada, excursions, breakfast and transfers. International flights are extra and start from £580 per person.
For further information visit journeylatinamerica.co.uk or call 020 8600 1881
Follow WebBandStand for everything that is cool that matters.