Discover the Culinary Heritage of the Incas and Cuisine of the Andes with Sumaq Machu Picchu Hotel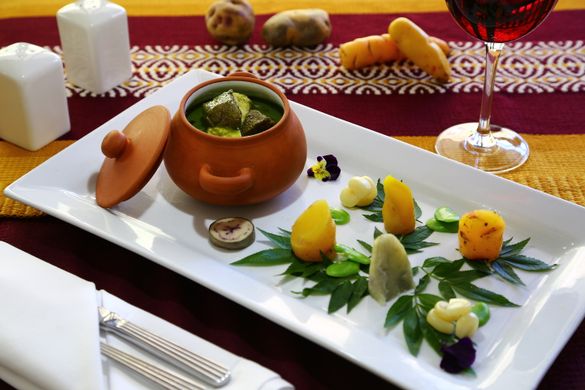 ---
Peruvian cuisine is widely acknowledged to be one of South America's most exciting and diverse, due to rich native products and ancient cooking techniques used in the Southern Andes for millennia. The luxury Sumaq Machu Picchu Hotel pays homage to these traditions by sharing them with guests and encouraging participation in activities such complimentary cooking demonstrations, Andean flavours tasting menus, and a traditional Inca Pachamanca or 'earth pot' lunch.
Pachamanca is a centuries old culinary tradition of the Incas. During this two-hour lunch, the Sumaq team shares knowledge that has been passed down through the generations on how to prepare a meal using an underground earth pot. Guests will learn how a traditional Andean pachamanca is prepared using stones placed in the earth to form an underground oven. Ingredients such as potato, fava beans, aromatic herbs and meats are placed in the pot and covered with large leaves before the oven is sealed with earth. As the ingredients heat and aromas begin to fill the air, guests can make a toast to Mother Earth with a glass of Chicha de Jora, a local fermented corn beer.
Peruvian culinary traditions have been evolved and brought up to date at Sumaq's gourmet restaurant, Qunuq. Qunuq – the Quechua word for 'warm' – presents a contemporary interpretation of traditional Andean cuisine using ingredients sourced from Peru's coastal, highland and jungle regions. Sumaq's chef, Ribelino Alegria, interprets classics such as causa and ceviche, alongside a gourmet menu where native ingredients like potatoes from Anta, lamb from Ayaviri, salt from Maras and trout from Lake Titicaca are brilliantly presented in a beautiful dining room with a view of Machu Picchu Mountain.
A new six-course 'Apucc Mikhuna Andean Flavours at Sumaq' tasting menu, available for lunch or dinner, gives diners a glimpse of the diversity of Peruvian produce.   Dishes include Tuber Cappuccino – a cream of Andean tubers with a Quishuarcancha mushroom duxelle sauce, pachamanca style foam and native potato chips; Puca Ceviche – delicate salmon trout cubes in tiger's milk flavoured with Camu Camu and strawberry; lamb shank slowly simmered in chicha de jora corn beer, accompanied with native potato gnocchi in a Huancaína sauce and fresh criolla; and avocado risotto au gratin, with Andean cheese and Chiclayo duck magret, accompanied by a mix of garlic-flavoured mushrooms with confit cherry tomatoes and fine herbs.  A choice of desserts includes Lucuma panna cotta with Quillabamba Valley coffee ice cream over a chocolate crumble.  The tasting menu costs USD 118 per person.
For travellers wanting to recreate a taste of Peru when back home, Sumaq's daily cooking demonstrations that are a complimentary experience for guests. During the classes, lead by one of the culinary team, guests will learn to prepare a perfect ceviche, a traditional Peruvian dish consisting of citrus-marinated seafood, spiced with chilli pepper, as well as the art of mixing a pisco sour — a Peruvian cocktail infused with exotic native fruit.
Sumaq Machu Picchu Hotel is privately owned and operated by a Peruvian family with decades of experience in hospitality in the region. The entire hotel team is aware of the positive impact that tourism can have on the development of local communities and producers. Sumaq sources all its ingredients from local community suppliers, respecting fair trade and encouraging development. Suppliers to Sumaq's kitchens include the organic horticulturists of Parcaraqui village in Urubamba, who grow all the hotel's vegetables.
Follow WebBandStand for everything that is cool that matters.