Talk to the Animals: Summer Staycation in SE England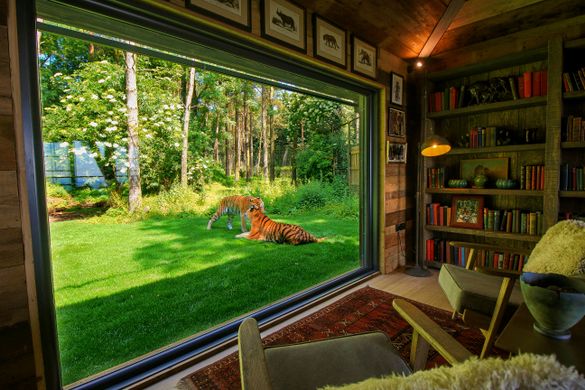 The South East of England is a great place to get up close and personal with wildlife. The region is home to top class zoos, wildlife reserves, museums and parks. The summer is the best time to get out and about and experience animals in their natural habitat, while also supporting the organisations' conservation work. Explore the Great Outdoors walking or cycling in the countryside and enjoy refreshments at a park or local pub for a enjoyable day out, or stay at one the many hotels and B&B accommodation to make the perfect summer staycation.
Visitors to the Hawk Conservancy Trust in Hampshire will be able to enjoy very close encounters with burrowing owls in addition to the world-class flying displays that have helped it become TripAdvisor's number one visitor attraction in Hampshire. The new "Meet the Burrowers VIP Encounter" is a new 30 minute feature that will take participants inside the world of owls as the expert bird team provide a unique insight. In addition, flying displays include the spectacular Wings of Africa display in the summer months (April to October), the Valley of the Eagles and the Woodland Owls. Visitors can explore 22 acres of woodland and wildflower meadow and there will be an opportunity to fly a Harris' Hawk for over 14s, a new Dino Trail for children, a themed play area and more. www.hawk-conservancy.org
Visitors to Port Lympne Reserve journey to South America, Asia, and Africa on an authentic safari and see some incredible animals along the way. Extend the adventure and stay overnight (or longer) in one of the unique accommodations including the Lion Lodge, the latest luxury overnight accommodation. These unique lodges, named Kikuyu and Jibana, offer guests the incredible opportunity to immerse themselves in the lives of the Reserve's lion pride. The first of its kind worldwide, the Lion Lodges are timber clad, Manhattan loft style buildings, set within the lion's natural and spacious habitat. Prices start from £1,200 per night and includes breakfast, entrance to Port Lympne and sister park, Howletts, alongside the use of a golf buggy at Port Lympne for the duration of the stay. All profits from guests' overnight stay go directly back into the conservation work of The Aspinall Foundation. www.aspinallfoundation.org
See conservation in action at Howletts Wild Animal Park at Canterbury. It is Kent's oldest wildlife Park and set up as a private zoo by John Aspinall in 1957.  Set over 90 acres it is home to the largest herd of African Elephants in the UK as well as giant anteaters, gorillas, tigers, leopards, monkeys and more. Howletts is an award-winning park committed to the conservation, breeding and reintroduction of rare and endangered animals. Join in free animal talks, walk alongside the lemurs, take the Treetop Challenge, watch the animals being fed and visit the education centre. www.aspinallfoundation.org/howletts
The British Wildlife Centre at Lingfield in the Surrey Hills, is home to the finest collection of native wildlife in Britain with over 40 different native species from tiny harvest mice to magnificent red deer. Meet the animals and join the half-hourly keeper talks. Open Saturday, Sunday and Bank Holidays, and daily during state school holidays (except 24, 25 and 26 December). https://britishwildlifecentre.co.uk
Drusillas Park in Sussex is widely regarded as the best small zoo in the UK. It has created an animal and child friendly environment where the focus is on having fun finding out. Animals are not the whole story and there is also Go Wild!, Get Wet!, Go Safari!, Amazon Adventures, Eden's Eye Maze and Hello Kitty Secret Garden for a complete theme park experience. Check tickets prices depending on when you visit at www.drusillas.co.uk
Fishers Adventure Farm Park offers a unique mixture of animal adventures, exhilarating indoor and outdoor play including over 40 rides and attractions including a climbing wall, Devils Dyke Descent, Adventure Golf and Pony Rides. The Animal Encounters Barn is an animal-lovers heaven, home to lambs, goat kids, chicks, rabbits, horses, sheep, cows, pigs and more – lucky visitors might even get to meet a few in the daily Animal Handling Sessions. Cool down at the exciting summer 'Splash Attack' with shooting water jets! Get drenched at the 'Downpour Derby' or chill out and sunbathe on the spacious summer sun-deck. https://fishersfarmpark.co.uk
Marwell Zoo is a 140-acre wildlife park and home to hundreds of animals from endangered Amur tigers, snow leopards and white rhinos to giraffes, hippos and penguins. Visit the new Tropical House spanning two levels. From various vantage points guests can experience face-to-face encounters with a diversity of wildlife and exotic plants in a tropical climate, while learning about the flow of energy through life. BRICKOSAURS! Is a spectacular interactive expedition created with more than two million LEGO® bricks and runs until 1 September. www.marwell.org.uk
[Download high resolution images from Drop Box]
Check individual web sites for seasonal tickets and Early Bird tickets, where applicable.
Nobody knows the South East like we do. Find your perfect accommodation on The Beautiful South's website www.visitsoutheastengland.com
Tourism South East is a not-for-profit organisation with a mission to provide services and expertise that supports the performance and growth of tourism businesses and destinations.
Follow WebBandStand for everything that is cool that matters.