Taiwan – Yen Chinese Restaurant Oceanic Yen Revamping Classic Cantonese Cuisine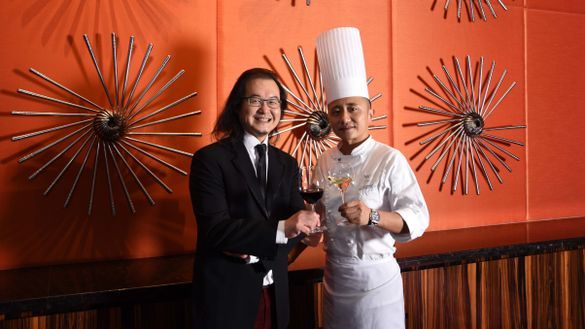 ---
YEN Chinese Restaurant recently launched "OCEANIC YEN" a brand new a la carte menu designed by Executive Chef Wo Hoi Ming (鄔海明), featuring the freshest local and indigenous ingredients from Penghu, an offshore island of Taiwan, which is famous for its variety of seafood. To enhance the dining experience, Chef Wo has invited the famous wine chamberlain, Sam Liu (劉善農) to choose the perfect wine to pair with his new creations. Guests may enjoy an impeccable wine-and-dine experience at YEN with Chef Wo's authentic Cantonese cuisine. For reservations or more information, please contact W Taipei at +886 2 7703 8887 or visit www.yentaipei.com/zh/menu   Since moving from Hong Kong to Taiwan, Chef Wo has been in love with the local culture, beautiful landscape, and fresh ingredients here. To find the best components for his dishes, Chef Wo visited Penghu this summer and experienced the local lifestyle by going to the traditional seafood market, fishing with local fishermen, and trying traditional Penghu dishes. He highly praised the rich seafood that Penghu has to offer and brought great inspiration back with him to create the brand-new a la carte menu for YEN. "I want to use the freshest local ingredients combined with traditional Cantonese cooking style, not only to retain the original flavours but also showcase the core value of Cantonese cuisine," said Chef Wo.
"OCEANIC YEN" is a selection of delicacies created by Chef Wo, highlighting dishes that contain ingredients unique to Penghu. For example, "Penghu garoupa tail fin", a very traditional Cantonese casserole that required great cooking experience, "Double boiled giant garoupa fish soup with cordyceps", a broth contains all essences from each seasonal ingredient,  "Wok fried Penghu prawn" with each prawn weighted 120 grams, and everyone's favorite: "Poached luffa with salted egg, preserved egg in superior broth". To satisfy seafood lovers' taste buds, "YEN deep-fried rice puff with king crab meat in superior braised lobster stock" is a signature dish that should never be missed!
To enhance the dining experience, chamberlain Sam Liu has specifically picked four wines to pair with this new menu, including Henschke Julius Eden Valley Riesling, Yalumba Eden Valley Viognier from Australia, Luca Syrah from Argentina, and Famille Perrin Reserve Cotes Du Rhone Rogue from France. Each wine with its own unique aroma and texture that goes perfectly with Chef Wo's dishes. "You rarely see a sommelier suggests red wine to go with seafood, as it only fits perfectly when the seafood is absolutely fresh, and I have no doubt that YEN can make the magic happen," said Mr Liu.
"OCEANIC YEN" menu serves every day from 11:30am to 2:30pm for lunch and 6pm to 10pm for dinner. For reservations or more information, please contact W Taipei at +886 2 7703 8887 or visit www.yentaipei.com/zh/menu
W Taipei YEN Chinese Restaurant
Add: 31F, 10 Zhongxiao East Rd., Sec. 5, Xinyi Dist., Taipei, Taiwan
Tel: +886 2 7703 8887
Web: www.yentaipei.com
About W Taipei
W Taipei, which opened to the world on Valentine's Day of  2011, is ideally situated in the midst of the buzzing Central Business District of Xinyi.  Destined to become a stylish meeting place for Taipei's trendsetters, business leaders and discerning world travelers, W Taipei is one of the city's largest luxury hotels, with 405 guestrooms showcasing spectacular urban views and views of the city's iconic Taipei 101 building. The hotel's design theme, "Nature Electrified" underscores all of its key features, from the signature restaurants and lounges to guestrooms that are each designed as private, quiet sanctuaries filled with natural materials, lush amenities and modern conveniences.  For reservations and more information, please visit www.wtaipei.com.
About W Hotels Worldwide
Born from the bold attitude and 24/7 culture of New York City, W Hotels, part of Marriott International, Inc., has disrupted and redefined the hospitality scene for nearly two decades. Trailblazing its way around the globe, with over 52 hotels, W is defying expectations and breaking the norms of traditional luxury wherever the iconic W sign lands. With a mission to fuel guests' lust for life, W ignites an obsessive desire to soak it in, live it up and hit repeat. The brand's provocative design, iconic Whatever/Whenever service and buzzing Living Rooms create an experience that is often copied but never matched. Innovative, inspiring and infectious, the brand's super-charged energy celebrates guests' endless appetite to discover what's new/next in each destination, to see more, feel more, go longer, stay later. W Hotels Worldwide is proud to participate in the industry's award-winning loyalty program, Starwood Preferred Guest®. Members can now link accounts with Marriott Rewards®, which includes The Ritz-Carlton Rewards® at members.marriott.com for instant elite status matching and unlimited points transfer.  For more information on W Hotels, visit whotels.com/theangle or follow us on Twitter, Instagram and Facebook.
About Chinese Executive Chef Wo Hoi Ming
Possessing the Michelin-starred culinary experience from Japan and Hong Kong, Chef Wo creates the "nouvelle Cantonese cuisine" menu by marring the Chinese gastronomy with an innovative presentation. He utilizes the premium imported ingredients and local ones from Taiwan on the brand new dishes, including a la carte and set menu at the hotel's fine dining Chinese restaurant YEN.
Chef Wo has crafted his cooking skills for more than 28 years and worked at many renowned restaurants in the world, from Lei Garden in Hong Kong, Rice Empire at Sands Cotai Central in Macau, Crystal Jade Golden Palace in Singapore & Thailand, and Tai Thong restaurant in Malaysia. In 2012, he led Xian Tao (nouvelle Cantonese cuisine) restaurant at The Ritz-Carlton, Osaka in Japan to be crowned with Michelin One Star. Now he is ready to elevate YEN Chinese restaurant to the next glamorous level.