Holiday With One of Cornwall's Top Chefs – Private Dining With Ben Tunnicliffe and Cornish Gems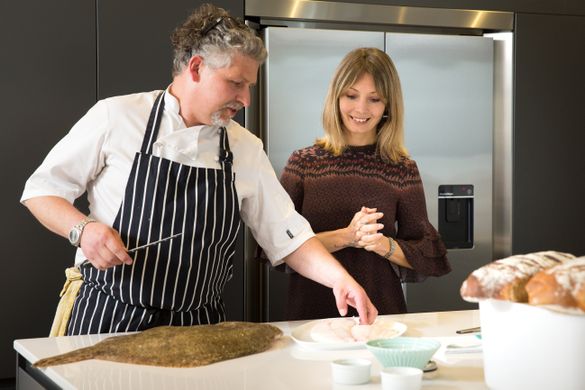 ---
An exciting new collaboration between a top Cornish chef and a leading luxury holiday lettings company is taking self-catering holidays in Cornwall to the next level.
Guests of the luxury holiday specialists in Cornwall, Cornish Gems, can now enjoy a very special private dining experience hosted by a multi-award winning chef from the comfort of their holiday home. Ben Tunnicliffe, who was one of the first chefs in Cornwall to receive a Michelin Star and owns the renowned Tolcarne Inn in Newlyn, will create a bespoke dinner party menu with sommelier-matched wines for a truly memorable feast.
This new service is designed for visitors who want to experience the very best of Cornwall's cuisine from the the comfort of their stylish holiday home. Bespoke menus showcase Cornwall's finest, seasonal produce and the freshest seafood, including hand-dived scallops, prime Cornish lobster and freshly-landed turbot, sourced directly from Cornwall's famous Newlyn Fish Market.
Each private dining experience is completely bespoke and offers  Cornish Gems' guests the opportunity to get involved in the cooking, learn top tips and skills from Ben such as filleting fish and oyster shucking, or simply sit back and enjoy the theatre of a top chef in their home.
Cornish Gems boasts an exceptional portfolio of over 180 hand-picked luxury holiday homes across Cornwall. The stylish beach houses, coastal penthouses and country cottages, which cater for groups from 2 to 20, provide a perfect base for a first-class culinary experience.
Commenting on the collaboration, Nadia Macer-Wright, co-managing director, Cornish Gems, says: "This is a very exciting new venture for Cornish Gems and we're delighted to be able to offer our guests this unrivalled luxury self-catering experience in Cornwall. We have a great portfolio of stunning holiday homes which are perfect for hosting very special dinner parties. We are very proud to be working with Ben to offer our guests a truly memorable holiday experience."
Chef Ben Tunnicliffe, Tolcarne Inn, adds: "Cornwall has so many first-class restaurants and talented chefs, but it's not always possible to get a reservation at busy times, and eating at the most sought-after places often involves a long car journey or taxi ride. My private dining experiences are intended to provide an alternative, bringing the finest quality ingredients and many decades of experience as a chef into the beautiful holiday home visitors have looked forward to enjoying all year."
The Ben Tunnicliffe private dining experience is suitable for groups of eight or more and is available to guests who have booked a holiday with Cornish Gems (children's menus also available).  Prices start from £100 per person for three courses and includes staff.
To celebrate the launch of the new private dining experience with Ben Tunnicliffe, Cornish Gems is running a special promotion: guests who book a seven night break at Rosilian Hall – Cornish Gems' grand, 10-bedroom waterfront residence with private beach in Flushing, Falmouth – this summer will receive a £1000 voucher towards a private dining experience with Ben Tunnicliffe. The offer expires 30 June 2018, cannot be used in conjunction with any other offer and is subject to availability.
For more information visit www.cornishgems.com or contact Cornish Gems on email enquiries@cornishgems.com or telephone 01872 241241.
Image captions:
1): Chef Ben Tunnicliffe at the helm in one of Cornish Gems' luxury self-catering properties in Cornwall. CREDIT: Cornish Gems/ElliottWhitePhotography
2) Chef Ben Tunnicliffe brings a giant turbot to the dinner party experience available exclusively to Cornish Gems' luxury self-catering guests. CREDIT: Cornish Gems/ElliottWhitePhotography
3) Culinary collaboration – Nadia Macer-Wright, co-managing director, Cornish Gems with Chef Ben Tunnicliffe. CREDIT: Cornish Gems/ElliottWhitePhotography
4 & 5) Chef Ben Tunnicliffe gives a fish filleting demonstration to the Cornish Gems team to showcase the private dining experience offering. CREDIT: Cornish Gems/ElliottWhitePhotography
About Cornish Gems
Cornish Gems is an established and award-winning, locally-based company, providing a first class luxury holiday letting service in Cornwall. Founded in 2007 by owners Julianne Shelton and Nadia Macer-Wright, Cornish Gems boasts an exclusive portfolio of hand-picked holiday homes which meet the highest holiday letting quality and safety standards.
Visit www.cornishgems.com for more information.
About Ben
Chef Ben Tunnicliffe is a highly-acclaimed chef, having in the past held a Michelin Star at The Abbey in Penzance, before being head-hunted to shape the food offering at boutique bolthole The Scarlet Hotel. He now attracts food-lovers from far and wide at The Tolcarne Inn – a harbourside pub in the fishing port of Newlyn – where he has gained an enviable reputation for serving the freshest seafood in Cornwall.
Visit www.tolcarneinn.co.uk for more information.
Private dining experience
For the private dining concept, Ben designs each menu individually based on the likes and dislikes of the guests, but seafood – matched with other locally sourced, seasonal ingredients – is undoubtedly the main focus of these unique experiences.  There is also the possibility of matching dishes with premium wines provided by specialist merchant Ellis Wharton Wines to complete the experience.
Sample menu
Starters: Fillet of red mullet, wild garlic pesto & mussel broth
Main: Fillet of turbot, Cornish earlies (new potatoes), asparagus, preserved lemon & smoked shrimp hollandaise
Dessert: Rhubarb millefeuille, rhubarb & ginger sorbet
Children's menu: Homemade fish fingers, peas & lettuce / Homemade vanilla ice cream and chocolate chip cookies
Follow WebBandStand for everything that is cool that matters.