Acqua di Parma Afternoon Tea at Baglioni Hotel London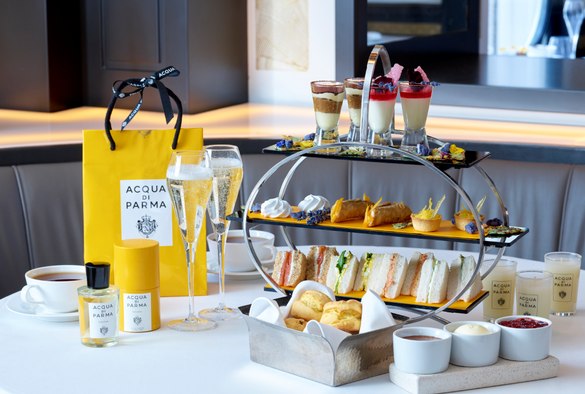 ---
Due to the great success of Acqua di Parma Afternoon Tea at Baglioni Hotel London during the month of May, the hotel has decided to make it available until the end of July.
Baglioni Hotel London partnered with iconic fragrance brand Acqua di Parma, creating a unique Afternoon Tea inspired by the fresh and elegant, citrus-based Colonia, that has been seducing customers for over 100 years.
Alongside a selection of scones and sandwiches with an Italian twist, the Acqua di Parma Afternoon Tea will feature colourful treats inspired by the Colonia's ingredients and its complex bouquet, which include citrus fruit from Sicily, lavender, bergamot, verbena and Bulgarian rose.
Baglioni Hotel London's Chef Alberto Rossetti, born and raised in Parma himself, has created Colonia Lemon Cake, Lavender Meringue and Bergamot Cream, Floral Verbena and Lime Zest Panna Cotta with Rose Coulis, Violets of Parma and Sicilian Cannoli with Candied orange.
To accompany, choose between the Calabrian Bergamot and Mint Tea or Rose and Dried Lime Tea and round off nicely with a glass of premium Italian sparkling wine for a complete Italian Afternoon tea experience.
Notes to Editor:
The Acqua di Parma Afternoon Tea is available until the end of July at Baglioni Hotel London from £47 per person. Every guest enjoying the Acqua di Parma Afternoon Tea will also be treated to a luxury sample of Colonia.
For booking and for further information call 020 7368 5900 or visit baglionihotels.com. 
Baglioni Hotel London
With a prime Kensington location, Baglioni Hotel is easily accessible, located just a few minutes' walk from High Street Kensington, opposite Hyde Park, and a short drive from Chelsea Flower Show. With more suites than rooms available to guests, the hotel boasts beautiful views of Kensington Gardens
and Palace and is located near many other national historical and cultural sites such as the Royal Albert Hall and the Natural History Museum.
Now in its second generation, Baglioni Hotels was founded by Mr Roberto Polito in 1974 when he opened the first Baglioni property, Baglioni Resort Cala del Porto in Tuscany. With six properties in Italy and London, Baglioni Hotels is now excited to welcome guests to Baglioni Resort Maldives in winter 2018, the first Italian luxury resort in the destination.
Acqua di Parma
Acqua di Parma has been a leading player on the luxury market for more than 100 years, producing a series of true masterpieces of traditional Italian craftsmanship. The brand was established in 1916 with the classic COLONIA, an authentic and iconic fragrance that has inspired the Acqua di Parma world and its values based on the best of the Italian lifestyle, a passion for beauty, an eye for detail, and the contemporary interpretation of luxury. Over the years the brand has expanded its product range, introducing new colonias, Collezione Barbiere (shaving products and accessories), Le Nobili (feminine fragrances inspired by the "noblest" flowers of Italian gardens), the Blu Mediterraneo and Blu Mediterraneo Italian Resort ranges (fragrances and cosmetics inspired by the most natural and exclusive locations on the Italian Mediterranean); Home Fragrance (scented candles and room sprays for the home), the Home Collection(terrycloth products) and the Tournée Collection, Business and Weekend,(leather accessories). Acqua di Parma supplies the suites of the most beautiful and exclusive hotels in the world with its Luxury Hotel Line, which embodies the inimitable Italian style of Colonia. All of its ranges are produced exclusively in Italy and distributed across Europe, Asia and the U.S. Since 2001 Acqua di Parma has been part of the LVMH Group.
For furth
Follow WebBandStand for everything that is cool that matters.