BBC Radio Science Contributor Dr Karl to Escort Polar Voyage to Antarctica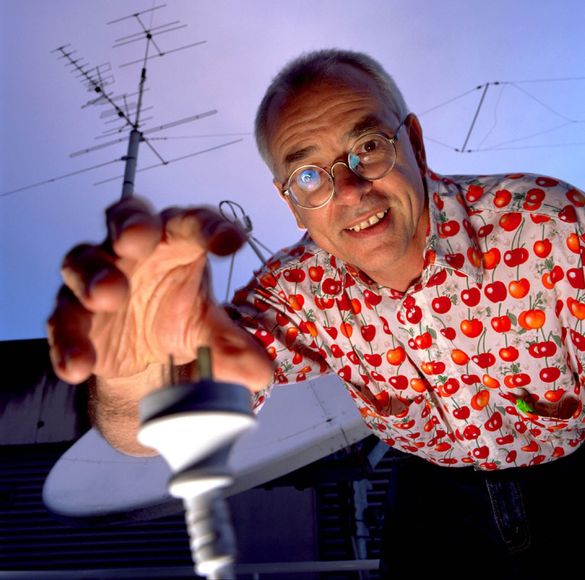 ---
Adventure travel specialist World Expeditions is thrilled to announce that BBC Radio 5 Live science contributor Dr Karl will escort an exclusive polar voyage to the Antarctic Peninsula in November 2019.
Dr Karl (real name: Karl Kruszelnicki) is a long-standing regular collaborator of the phone-in Up All Night radio show, where he explains all things science and discusses listeners' questions every Thursday. His 5 live Science sessions can also be downloaded as podcasts on BBC iplayer.
This will be the fourth time World Expeditions teams up with Dr Karl, who in the past has escorted trips to the Galapagos and Madagascar, while his upcoming tour to Mongolia in July 2018 has been fully booked months in advance.
The popular science communicator and commentator, who describes himself as "an answer waiting for a question", is the author of more than 40 books, the recipient of the tongue-in-cheek Ig Nobel Prize from Harvard University, while in 2012 he had an asteroid named in his honour.
The trip promises the polar experience of a lifetime: in addition to a variety of informal, on-board lectures with Dr Karl, as well as other specialist expedition leaders and experts, the voyage includes a number of optional activities such as camping on ice, kayaking through sheltered waterways, snowshoeing on remote shorelines and climbing Antarctic glaciers – all at no extra cost. Free photography workshops will also be available, to help guests capture Antarctica's natural beauty to best effect.
Commenting on his upcoming voyage to Antarctica – the fourth to the frozen continent – Dr Karl said:
"I'm excited to explore parts of the Antarctic I haven't yet visited. On my previous visits I was amazed to see my first iceberg and seeing hints of blue ice. There's this frigid continent in front of you and a whole different bunch of things that you have never seen before and will not see anywhere else in the world!"
Commenting on the new trip, Gordon Steer, UK Manager for World Expeditions, said:
"We are delighted to have Dr Karl on board this very special trip. Antarctica is a part of the world that makes you marvel at every turn, whether you participate in one of the activities on offer or simply enjoy the surreal landscapes. It is a rare opportunity to experience the continent's famous wilderness and wildlife whilst travelling alongside the brilliant mind of Dr Karl."
ANTARCTIC CRUISE WITH DR KARL – EXCLUSIVE WITH WORLD EXPEDITIONS: 24 November – 5 December 2019 (12 days). Joining in Ushuaia. From US$7,950 (approx. £5,900) per person. Optional activities are complimentary (pre-booking is required). International flights extra.
https://worldexpeditions.co.uk/KIA
For more information on the trip and bookings please visit www.worldexpeditions.co.uk or call 0800 0744 135.
You can find out more about Dr Karl at World Expeditions' blog.
World Expeditions' policy ensures there are no local payments. Prices do not include international flights, however these can be arranged on request.
– Ends –
Notes for editors:
– One of the very first operators in what is now becoming a very popular area in travel, since its inception in 1975 World Expeditions has earned itself an outstanding reputation as a world leader in small group adventure holidays and cultural journeys.
– World Expeditions remains independently owned and a truly global company, with seven offices around the world, including the UK, Canada, Australia and New Zealand.
– The two factors that distinguish World Expeditions from its competitors, the number of inclusions and the exceptional value of its trips, can be found today in more than 500 stand-alone itineraries across all continents, escorted by expert leaders and meticulously designed for those travellers who want to 'take the paths less travelled'.
– Always innovative, it was, among others, the first operator to offer cycling holidays in India (1977) and China (1978) and trekking trips in Mongolia (1980), Tibet (1981) and Japan (1999). As of 2011 World Expeditions is the only commercial company to offer the Full Nepal Traverse of the newly mapped Great Himalaya Trail.
– Exclusive to World Expeditions, a number of permanent eco-campsites, designed to increase travellers' comfort levels, are in operation in the Himalaya (Everest, Annapurna); new design-led campsites can also be found on the iconic Larapinta Trail in Australia.
– The European division of World Expeditions, activity holiday specialists UTracks and Sherpa Expeditions, cover over 20 countries, with more than 400 stand-alone itineraries, from short four-day breaks to longer two-week trips.
– The World Expeditions Travel Group consists of 10 travel brands in total, also including Adventure South, Australian Walking Holidays, Great Canadian Trails, Huma Charity Challenge, Tasmanian Expeditions and World Youth Adventures.
F
Follow WebBandStand for everything that is cool that matters.