Latam Airlines Launches New Gastronomic Concept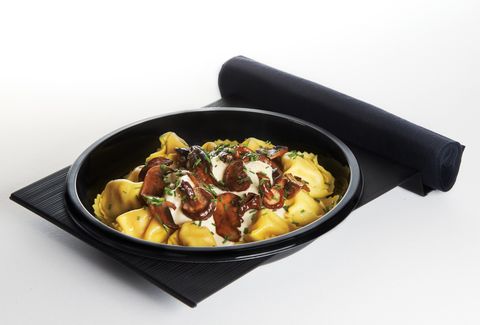 ---
LATAM launch new inflight dining experience.
300 new dishes will be introduced over 64 daily flights.
New menus to include three options for lunch or dinner and two breakfast choices.
New dining experience will be rolled out across entire network.
When tested the improved menus saw a 28% improvement in customer satisfaction.
LATAM Airlines Group has introduced a new gastronomic concept for economy cabins on its long-haul flights with durations of seven hours or more.
Passengers will receive a new menu with three options for lunch or dinner, which includes a hot dish, vegetarian or a lighter cold option, a drink service and a sweet snack. Two new breakfast choices are also available. In total, the company has created more than 300 new dishes, which will serve an average of 14,000 passengers on 64 flights each day.
The new menu will include Latin American, international and vegetarian dishes ranging from 'Ravioli stuffed with four cheeses with tomato sauce, pesto and mozzarella cheese' and 'Slow cooked rump of beef with truffle mash potatoes, sautéed mushrooms and grilled asparagus' to a 'cold dish of roasted chicken with rice salad and oats, soft curry dressing, cherry tomatoes and mixed leaves' accompanied by desert. Breakfast choices include a 'tortilla filled with cheese, sautéed mushrooms and cherry tomatoes', 'American pancakes with strawberries and cranberry compote' or ´a selection of fresh fruit or yoghurt.'
The new service will offer a selection of main dishes with increased portion sizes. New serving trays have been designed and implemented to provide a more convenient dining experience with built-in plates replacing small modular dishes on trays.
LATAM conducted test flights where passengers were surveyed about the general flight experience. Dining experience satisfaction scores improved by 28 percentage points with the introduction of the new food concept compared to the previous offering.
The new menus will be implemented on LATAM Airlines' network of flights connecting Europe to Latin America, including those operated by the Boeing 787, 767, 777 and Airbus A350 aircrafts. This new concept is already available on routes to and from Chile and will be rolled out across the company's international network by the end of 2017.
Claudia Sender, Senior Customer VP of LATAM Airlines Group commented, "At LATAM, we understand that on-board dining is one of the most important factors for our customers. This has influenced our decision to develop an enhanced culinary experience that offers passengers quality, convenience and incomparable variety. Every detail was important to us, from the ingredients used to the preparation and service of each dish."
The new menus were developed in partnership with global experts in airline catering at the Gategroup Innovation Center in Amsterdam. LATAM catering team collaborated with cabin crew and the specialized chefs of Gategroup, factoring in service time and restrictions of service in an onboard kitchen and galley.
Anne De Hauw, VP of Customer Experience at Gategroup added,
"We really believe that this new, innovative concept will transform the way passengers enjoy food on board. It has been an incredible experience, and we thank LATAM for the opportunity to work together on this project to develop what I am sure will be a great success."
About LATAM Airlines Group S.A.
LATAM Airlines Group is Latin America's leading airline group with one of the largest route networks in the world, offering air services to around 140 destinations in 25 countries, and is present in six domestic markets in Latin America: Argentina, Brazil, Chile, Colombia, Ecuador and Peru, in addition to its international operations in Latin America, Europe, the United States, the Caribbean, Oceania and Africa.
The Group employs over 43.000 people worldwide, operating more than 1,300 flights per day and transporting 67 million passengers per year.
LATAM Airlines Group has a young and modern fleet. Its 304 aircraft average an age of around seven years and feature the latest models including the Boeing 787, Airbus A350, A321 and A320neo.
LATAM Airlines Group (formerly LAN Airlines) comprises affiliates in Peru, Argentina, Colombia and Ecuador as well as LATAM CARGO and its affiliates; in addition to TAM S.A and its affiliates, TAM Linhas Aéreas S.A. (LATAM Airlines Brasil) and its business units TAM Transportes Aéreos Del Mercosur S.A. (LATAM Airlines Paraguay) and Multiplus S.A.
LATAM is the brand adopted by LATAM Airlines Group member airlines and is being rolled-out in its products and services, as part of a gradual integration plan.
LATAM Airlines Group is the only airlines group in Latin America and one of two worldwide to be part of the Dow Jones Sustainability 'World' Index.  In 2016, it was recognised by the index for sustainable practices, based on economic, social and environmental criteria, for the third consecutive year.
LATAM Airlines Group shares are traded on the Santiago Stock Exchange and the New York Stock Exchange in the form of ADRs.
For any commercial or brand related query, visit www.latam.com. Further financial information is available via www.latamairlinesgroup.net
Follow WebBandStand for everything that is cool that matters.