Taiwan World's Largest Performing Arts Centre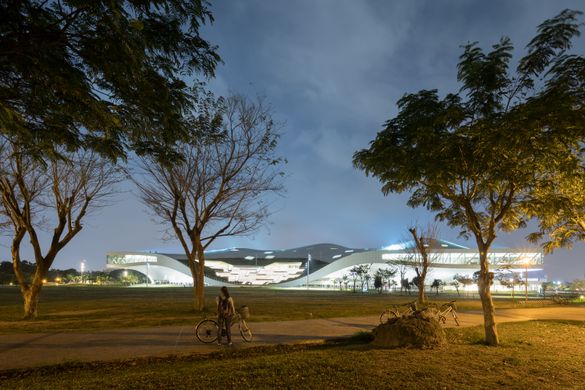 With this weekend's landmark opening of the acclaimed National Kaohsiung Centre for the Arts, the world's largest performing arts centre under one roof, Taiwan's already world-class cultural scene has taken a big leap forward. Holidaymakers to the island nation can experience an international and local arts scene in its major cities or visit its museums and monuments to learn more about Taiwan's fascinating culture and history which stems from a mix of different nationalities through the ages. Here we take a look at the top five must-see cultural experiences in Taiwan.
NEW – The National Kaohsiung Centre for the Arts (Kaohsiung)
Scheduled to open on 13th October 2018, the new and spectacular National Kaohsiung Centre for the Arts will feature an impressive five state-of-the-art performing spaces, with an incredible cultural mix of both classic and contemporary performances by global and local musicians, dancers and performers. Visitors to the modern and diverse city of Kaohsiung this winter can look forward to an inspirational inaugural season from world's leading symphony orchestras to cutting-edge dance and theatre, devised by the Centre's Artistic Director, Chien Wen-Pin.  Designed by renowned Dutch architects Mecanoo, the building's extraordinary architecture is inspired by the local natural environment of banyan trees.
https://www.npac-weiwuying.org/index?lang=en 
National Taichung Theatre (Taichung)
Any holidaymakers visiting central Taiwan should check out The National Taichung Theatre, a landmark world-class performance and exhibition facility which officially opened in 2016. The impressive six-story venue designed by Pritzker Architecture Prize winner, Toyo Ito, promotes performing arts as its central mission, but also holds free cultural activities, has a free Art Corner where visitors can listen to music and read performing arts magazines and regularly curates visual arts exhibitions in its fifth floor Tutu Gallery.
The Temples of Tainan (Tainan)
Taiwan's ancient city and former capital, Tainan situated on the south-western plains of the island was the country's centre of historic and cultural development until the end of the 19th century. Enjoying a warm climate year-round, the city boasts spectacular temples and historical attractions built by the Dutch in the 17th century. Dotted around the city, and sometimes in little alleyways, visitors can walk around and discover the best of these Taoist temples. These include the Grand Matsu Temple, Confucius Temple and the City God Temple. Another must-see attraction is the French-designed Eternal Fortress from the Qing Dynasty.
https://eng.taiwan.net.tw/m1.aspx?sno=0002119
National Palace Museum (Taipei and Chiayi)
The National Palace Museum is renowned for its collection of cultural relics, the world-class museum features the largest and finest collection of Chinese art in the world, a staggering 650,000 pieces from 5,000 years of Chinese civilisation. The sleek and modern southern brand of Taipei's National Palace Museum in Chiayi also showcases part of the collection with Buddhist art from Asia's oldest civilisations, textiles and other artefacts of Chinese, Taiwanese and Asian heritage.
https://eng.taiwan.net.tw/m1.aspx?sNo=0002090&id=2751
Pingxi (Northern Taiwan)
Famed for its spectacular annual sky lantern festival during Chinese New Year celebrations, Pingxi is set in the spectacular mountains of Northern Taiwan, just an hour's drive from Taipei. Many visitors go to the town to buy a lantern, write their hopes and ambitions on it, and set it off into the night's sky so their dreams come true. As well as the lantern festival, the town is the ideal base for mountain trekking, savouring the different styles of street food as well as enjoying the arts and crafts scene. The town's unique architecture and design as well as its market area around the Old Street makes it well worth visiting.
https://www.everfest.com/e/pingxi-sky-lantern-festival-pingxi-taiwan
For further information on Taiwan please visit: http://eng.taiwan.net.tw
http://www.ten-hsieh.com.tw/english/main.htm
Email taiwan@brightergroup.com or telephone 020 7326 9880
Taiwan – The Heart of Asia: This little island in the Western Pacific is a combination of Asia's most beautiful characteristics. Taiwan's breath-taking tapestry of landscapes offer impressive gorges, high mountains, adventurous coastlines, colourful corals, and volcanic islands. This is contrasted with its 21st century cities, fused with traditions and cultures; hundreds of years old in the modern world. Far-East-Flair, Asian culture, and subtropical nature come together to form the enchanting Heart of Asia.