Gwinnett County, Georgia, Arts Trail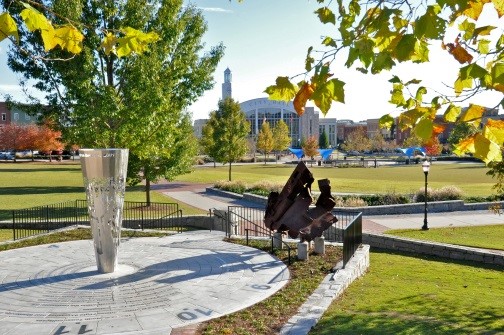 Feel the need for a break but can't take much time off? Take an artsy mini-retreat to clear your mind and restore your soul. Just 30 minutes northeast of downtown Atlanta on I-85, Gwinnett County offers visitors the attractions, amenities and culture of a metropolis within very accessible and beautiful small towns built around all the arts, including architecture, culture, music and even cuisine.
In addition to major sports and entertainment venues, Gwinnett County has a growing reputation for international cuisine, professional theater, the arts and the most diverse shopping in metro Atlanta, all within a manageable footprint, with nearby parking.
Here are artful vacation ideas that work for couples, families and those who love to meander and explore–on bikes, by foot, by car and even with fur-babies.
Lawrenceville
In centrally-located Lawrenceville, take a self-guided walking tour of the exquisite Romanesque-style Gwinnett Historic Courthouse with its turrets, lavish balconies and clock tower. Rotating art exhibits are housed here in the National Register building, as well as the Gwinnett Veteran's War Memorial Museum.
Within walking distance is the Aurora Theatre, adding to downtown Lawrenceville's appeal with world-class professional theater, with more than 600 events a year. Atlanta's only professional Spanish language theatre, Teatro Del Sol, is also housed here. The creative buffet includes Broadway plays, musicals, classic comedy and drama, as well as highly-rated contemporary productions. Aurora Comedy Nights, sponsored by Explore Gwinnett, showcases national touring and top local comedians. Children's programs and the wildly-popular Lawrenceville Ghost Tours are also produced here. Free attached, covered parking and a full bar with no two-drink minimum add to the accessible, welcoming small-town ambiance.
Spend the day exploring an array of shops and dining around the Historic Courthouse. Many of the independent, chef-driven and happening restaurants are in historic buildings that have been converted into restaurants, such as Universal Joint, Local Republic and Blue Rooster. Craft beer lovers, don't miss Slow Pour Brewing Company, the county's first brewery.
Buford
Tannery Row Artist Colony is a unique facility housed in a re-purposed leather factory whose distinctive custom goods customers included Roy Rogers' horse, Trigger. The Colony's art gallery displays rotating exhibits throughout the wood, brick and steel structure. Loft spaces hold 15 working art studios where art-lovers are warmly welcomed. Many artists offer private lessons, classes, artist talks and other activities. Check out the bronze statue of Rogers and Trigger in the park across the street and have lunch at Rico's World Kitchen, serving international comfort food, or Aqua Terra Bistro, serving elegant cuisine in a rustic atmosphere.
Suwanee
SculpTour is a walkable outdoor exhibit of original contemporary sculptures centered around the city's lavishly landscaped Town Green, a great place for lunch, a drink, walking with (leashed) pets or exploring the galleries and shops around the area. SculpTour has brought 79 sculptures to a walkable one-mile area of downtown Suwanee during its past four installations, as well as 14 permanent pieces owned by the city and artworks purchased privately through a voluntary developers' program. A phone app includes insights from the artists on the pieces.
Duluth
Free to the public and open Tuesday-Sunday, the gallery at The Hudgens Center for Art & Learning at Infinite Energy Center hosts visual works from Andy Warhol to contemporary local and regional artists, as well as a vast range of pottery, textile, wood and other mediums. Adults and kids can even take classes and workshops, including affordable and interactive Toddler Fridays. The award-winning outdoor area and sculpture garden is a refreshing retreat, with its tranquil fish pond, flowering and evergreen landscapes and wildlife sanctuary.
To experience more, make it a weekend September 15-16, 2018, and attend Duluth's annual JapanFest, one of the largest Japanese festivals in the country. At more than 25 workshops, patrons can learn martial arts, calligraphy and bonsai. Explore the nation's rich heritage of music, dance and cooking; Anime, Japanese street food, art, jewelry, clothing and a festival atmosphere add to the all-ages appeal. Tickets are only $10 in advance and kids under 6 are free, at Infinite Energy Center.
Norcross
Centered around a charming National Historic Register downtown, Norcross ArtSplash, October 6-7, 2018, showcases a colorful collection of folk art, ceramics, paintings, photography, jewelry and much more. Chairs for Charity features furniture repainted by local schools to raise money for their arts programs. Thrasher Park's stage features oldies, blues, jazz and musical surprises. A Food Row and Kidz Zone make for an all-day stay, with shops, galleries and restaurants participating in the event.
County-Wide
October is another perfect month to see timeless art and architecture all over the county. Artober Gwinnett is a month-long celebration through October 2018. To reinvigorate the imagination, explore events in visual and performing arts, music, craft, film and more–and in honor of the season, ghost stories and cocktails at the Aurora Theatre.
Not too far to travel on a whim, yet far enough away to disrupt your mind from the grind, Gwinnett County's Lawrenceville, Suwanee, Norcross, Buford and Duluth are ideal for an artsy, urban yet small-town mini-retreat. It's an especially manageable exploration for toddlers and pets. We mentioned pet-friendly: here's a link to dog-welcoming patios.
Plan your stay at one of 104 hotels, followed by an out-of-the ordinary brunch or lunch. www.ExploreGwinnett.org/directory
For even more details and itinerary ideas for an arts and culture vacation, visit: www.ExploreGwinnett.org/itineraries/for-the-culture-lover.
Follow WebBandStand for everything that is cool that matters.