What's New in Sonoma County, California: October 2019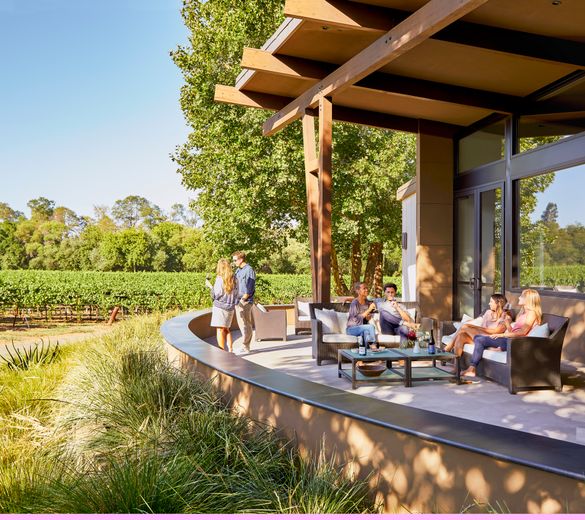 ---
SONOMA COUNTY, CALIFORNIA — Rows of gorgeous red, yellow, and orange grape leaves fill the vineyards and the air is rich with the smell of crushed winegrapes in Sonoma County. October means harvest time, both in the vineyards and in terms of harvesting all the time, energy, and talent that goes into creating new tasting rooms, restaurants, and more.
Don't forget: October has been designated Sonoma County Wine Month, by the Sonoma County Vintners. Now is the best time to explore California's most diverse wine region — growing more than 60 varietals of wines across 18 American Viticultural Areas (AVAs) and home to more than 425 wineries. Find out more at sonomawine.com/octoberwinemonth.
Here's a quick overview of a just a few of things that are new in Sonoma County in October 2019.
WINERIES
MacLaren Wine pouring in Kenwood cottage
Take a seat at the indoor farmhouse table or on the outdoor wrap-around deck at the new MacLaren Cottage tasting room in Kenwood, in the north end of the Sonoma Valley. In addition to great wines, the tasting cottage offers beautiful vineyard and mountain views.
Winemaker Steve Law will be your personal host, guiding you through a flight of limited-production Syrah, Pinot Noir, and Sauvignon Blanc. Law's winemaking is inspired by his time in France and his love of French wines. Law focuses on vineyards in the cooler, fog-blanketed areas of Sonoma County, and crafts elegant, approachable wines meant for the table, to be enjoyed by family and friends.
MacLaren Cottage
211 Adobe Canyon Road
Kenwood, CA 95452
707-833-0101
www.maclarenwine.com/Experience/Kenwood
Baca Wines opens Healdsburg tasting room
Enjoy award-winning wines, engaging experiences, panoramic vineyard views, and world-class artwork in the new Baca Wines tasting room in Healdsburg, in northern Sonoma County.
"Baca" means "berry" in Latin, and the winery sources intriguing Zinfandel grapes from some of California's most noted growing regions, crafting wines that reflect the unique places in which they are grown. Its new tasting room offers flights of Baca wines, as well as wines from its winery partners, Walt and Hall.
Baca Wines
779 Westside Road
Healdsburg, California 95448
707-721-8627
www.bacawines.com

Dry Creek Vineyard adds farm tour
Journey beyond the walls of the tasting room and experience the biodiversity of the historic property on the new Farm Tour at Dry Creek Vineyard in northern Sonoma County.
Ride in style through the estate vineyards while delving into sustainable farming practices, relish the vineyard views, and get a firsthand look at the Dry Creek Habitat Restoration Project. The approximately two-hour tour for two to four people includes a tasting of wines from the vineyards of your adventure.
Dry Creek Vineyard grows many varietals on its vineyards in the Dry Creek Valley wine region, farming multiple vineyards within 10 separate estate-owned properties. It also sources fruit from other Sonoma County regions, with a focus on discovering varietal-specific growing conditions. Dry Creek Vineyard crafts world-class wines, including limited-production, single-vineyard bottlings that are only available at the winery.
Dry Creek Vineyard
3770 Lambert Bridge Road
Healdsburg, CA 95448
707-433-1000
www.drycreekvineyard.com
Sales and Group Tour Contact
Darren Abel
707-433-1000, ext. 103
concierge@drycreekvineyard.com
Belden Barns winery offers kids' scavenger hunt
While Mom and Dad taste wines at Belden Barns Farmstead & Winery above Santa Rosa in central Sonoma County, the kids can borrow the winery's scavenger-hunt-style "adventure" backpacks and wander the 55-acre property in search of flora, fauna, and random or whimsical items.
The backpacks are filled with field guides to local birds or insects, magnifying glasses, sketchpads, crayons, and a checklist of things to find. The kids are encouraged to check off as many items as possible, searching for things like an acorn, an owl pellet, a feather, something heart-shaped, or a piece of trash. The goal is to keep kids busy and engaged while their parents taste wine.
Perched at 1,000 feet on the northwest shoulder of Sonoma Mountain, the Belden Barns site has a long history of farming and hospitality dating back to the late 1800s. The property includes 100-year-old Monterrey Cyprus trees and 1880s-era white farm buildings. The location also offers ideal grape growing conditions, with morning fog, afternoon sun, ocean breezes, and ancient volcanic soils.
Belden Barns produces 10 estate wines including Pinot Noir, Syrah, Grenache, Grüner Veltliner, Chardonnay, Sauvignon Blanc, and Viognier. Wine tasting is by appointment only.
Belden Barns Farmstead & Winery
5561 Sonoma Mountain Road
Santa Rosa, California 95404
415-577-8552
www.beldenbarns.com
RESTAURANTS & EATERIES
Palooza opens Cornerstone beer garden
The folks who own the popular neighborhood eatery Palooza Brewery & Gastropub in Kenwood, in the northern Sonoma Valley, just opened the Palooza Beer Garden & Eatery in Cornerstone Sonoma, a wine country marketplace in the southern Sonoma Valley.
The new eatery will be family-, dog-, and beer-friendly, with hyper-local foods and wine. The menu includes small plates with local cheeses, salami, and black sesame hummus, as well as delicious sandwiches and burgers, hearty salads, and assorted beverages including milkshakes.
Cornerstone Sonoma is home to the Sunset magazine outdoor kitchen and test gardens, an ever-changing series of designer gardens, tasting rooms, and unique shops and galleries.
Palooza Beer Garden & Eatery
23584 Arnold Drive
Sonoma, California 95476
707-833-4000
www.paloozafresh.com
The Bagel Mill offers breakfast, lunch in Petaluma
Artisan sourdough bagels crafted using traditional techniques and the best ingredients are the focus at The Bagel Mill, now serving a full breakfast and lunch menu in Petaluma, in southern Sonoma County.
The company's bagel-making process takes more than 36 hours, resulting in a bagel that is more nutritious, complex, and easier to digest. Whole grains are milled on a stone flour mill, and the fresh flour is fed to the sourdough starter, which will leaven the bagels. The sourdough starter, water, flour, unrefined salt, and malted barley flour are mixed together. The resulting dough is allowed to "proof" for a few hours, and then formed into the round bagel shape. After resting in the fridge for 18 hours, the bagels are boiled. Toppings are added, and then the bagels are baked in a deck oven using traditional boards.
Bagel flavors include plain, poppy seed, sesame, onion, garlic, everything, cinnamon raisin, marble rye, whole wheat, pizza, and pesto. Breakfast items include egg and cheese, a seasonal frittata sandwich, and classic lox, as well as overnight oats and yogurt and granola. For lunch, choose from egg salad, Vegan Dream, BLAT (a BLT with avocado), pastrami Reuben, spicy turkey club, and smoked trout salad, all served on a bagel. Other menu items include a side salad, fruit salad, potato salad, and bread and butter pickles.
Owner Glenda Dougherty opened Red Dog Baking Co. in 2017, selling whole grain baked goods at local farmers markets. The bagels quickly became the best sellers, and Dougherty renamed the company The Bagel Mill to emphasis the renewed focus on bagels.
The Bagel Mill
212 Western Ave.
Petaluma, California 94952
707-981-8010
www.thebagelmill.com

THE ARTS
Gallery 105 features local, national artists
Located in the historic Railroad Square District in downtown Santa Rosa, Gallery 105 is the new go-to gallery for local artists, as well as presenting diverse art from all over the world.
From mid-October 2019 to January 2020, the gallery will highlight the work of two new additions to the Gallery 105 "family," Antoinette Wysocki of New York and Hersley Casero of the Philippines.
The gallery is open noon-5 p.m. Sunday, Tuesday, and Wednesday; 2-9 p.m. Thursday-Saturday; and closed Mondays. The gallery has an internship program with Sonoma State University and works in partnership with the Chalk Hill Artist Residency program, which offers artists the space and time needed to pursue creative work.
Gallery 105
105 4th St.
Santa Rosa, California 95401
707-206-8010
www.facebook.com/WeAreGallery105/
WELLNESS
Soulstice Mind + Body Spa expands its offerings
Soulstice Mind +Body Spa adds yoga, meditation, sound healing, classical Pilates, and more, beginning in October 2019 in its new studio in Santa Rosa, in central Sonoma County.
Soulstice has cared for thousands of Sonoma County visitors and locals with massage therapy and bodywork offerings since 2012. With the opening of its new studio, it provides an array of mind-body services designed to let you heal, restore, and renew yourself. Its diverse team of talented, professional massage therapists and world-class teachers offer more than 25 weekly classes, expert bodywork, and dynamic workshops seven days a week.
Soulstice Mind + Body Spa
2462 W. 3rd St. at Fulton Road
Santa Rosa, CA 95401
707-843-3539
www.soulsticemindbodyspa.com
Follow WebBandStand for everything that is cool that matters.