The Venetian Resort Las Vegas Year of Celebrations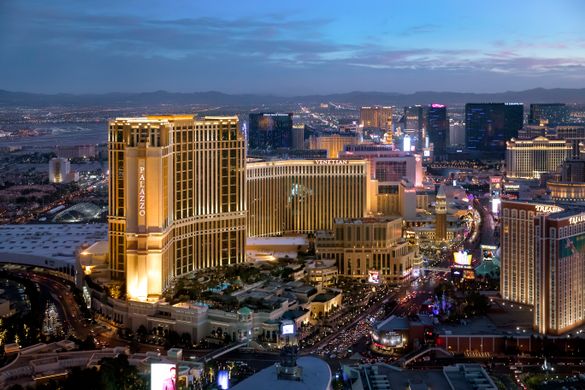 In honor of its 20th anniversary, The Venetian® Resort kicks off a Year of Celebrations, an invitation to mark any occasion with friends and family at the iconic Las Vegas resort. From a milestone birthday or anniversary, to an over-the-top bachelorette party, The Venetian is providing new options and resources to make planning easier.
To navigate the seemingly endless number of options in Las Vegas, the resort has introduced a dedicated Celebrations Team, specially trained experts who can create the most memorable experiences from start to finish. In addition, online tools and trip guides are available for guests to discover new small-group opportunities, giving travelers more turnkey options for their itineraries.
Since inception, The Venetian was designed to accommodate groups of all sizes. Even with its grand scale, its team of experts can plan a party for 10 just as thoughtfully as 10,000.
"At a destination where our guests expect the world, we believe one of our most valuable services is to provide context – and help curate the experience. This is what makes our Celebrations Team so impactful," said Marcy Miles, chief marketing officer for The Venetian Resort Las Vegas.  "Las Vegas provides infinite possibilities for a celebration vacation.  Whether looking for activities for the ultimate family reunion, the best spot for a festive dinner, or the makings of an epic birthday weekend, we lighten the load by providing inspiration and valuable insights so our guests can focus on the fun."
Some of the most popular moments developed by the Celebrations Team include:
Bachelor and Bachelorette Parties: From a traditional weekend to a co-ed soiree, The Venetian has guests covered. Several experiences include a bar crawl through The Cocktail Collective venues The Dorsey, Rosina and Electra, and a Bourbon Tasting at Yardbird, paired with a four-course meal. Buddy V's Ristorante offers tasting menus that were envisioned especially for bachelorette parties. "We found that bachelorette groups sometimes request a lighter meal before a night at the clubs," said Rebecca Stebbins, director of Celebrations at The Venetian Resort. "Our team has gleaned insights like these while helping to plan these parties."
Weddings Redefined: No two love stories are alike, and with the assistance of The Venetian Celebrations Team, each guest is able to create an event that is genuinely their own. Couples receive a stress-free custom itinerary for their wedding. "We can team rehearsal dinners and cocktail receptions with fun activities like poolside yoga or the Ceviche Challenge, a chef-led hands-on cooking demonstration at Chica," continued Stebbins. "This gives couples the chance to put their own, unique spin on the festivities making for an unforgettable weekend."
Birthday Weekend: A birthday comes only once a year, and guests are welcomed to go all-out at The Venetian. The Celebrations Team can help curate an itinerary fit for an epic weekend. "There are so many options at The Venetian, depending on the make-up of the group," said Stebbins. "For instance, Canyon Ranch Spa has a Celebrations Suite that is the ultimate respite for those looking to relax while spending time together. In contrast, Lagasse's Stadium has multiple VIP suites for groups to gather and watch a televised sporting event in a way they never have before." TAO Nightclub has been the city's "go to" location for milestone birthdays for years, and even offers a complimentary "Turning 21" birthday package for those who inquire in advance.
Anniversary Getaway: Anniversaries are an opportunity to re-connect. Romance reigns at the resort, and guests can plan anything from a vow renewal on an enchanting gondola, to a delectable dinner in an award-winning restaurant, to a breathtaking helicopter tour of the Las Vegas Strip. Whatever a guest desires, The Venetian can make it a reality.  "While anniversary getaways tend to be more couple focused, a recent trend addresses the other side of the coin," said Stebbins. "Newly separated people are inviting friends along for a Divorce Weekend. In fact, TAO Nightclub and TAO Beach have a special table package catered especially to these groups."
Family Reunion: When the time comes to bring the family together, The Venetian Celebrations Team is a great resource. Creating an itinerary fit for all ages can be a challenge, but with an expert working through the details, each guest will walk away feeling the trip was designed just for them. "There are options here that most would not expect," said Stebbins. "We have had groups host private poker tournaments, shopping excursions, or themed dinners in our private dining rooms."
To plan a celebration, guests will find more ways to celebrate at venetian.com/celebrates. In addition, The Venetian Celebrations Team is available by calling 702.414.7109 or via email at celebrations@sands.com.
About The Venetian® Resort Las Vegas
The iconic Venetian Resort Las Vegas was designed for the discerning traveler craving a bespoke Las Vegas getaway. The destination-defining resort is comprised of three all-suite towers, boasting standard accommodations nearly double the size of the average on the Las Vegas Strip. Born of the same Italian spirit yet each offering a luxurious escape with its own distinct personality, The Venetian is revelatory and dynamic, The Palazzo is refined yet electrifying and Venezia is a relaxing respite.
The resort experience is marked by a commitment to sophisticated play with world-class restaurants from celebrated chefs; a collective of intimate and elevated cocktail havens curated by the industry's top talents; Canyon Ranch Spa; a five-acre pool and garden deck; TAO Nightclub; a country club-meets-Vegas poolside experience at The Aquatic Club; an ever-evolving series of large-scale art installations; two casinos and poker room, and enviable retail options at Grand Canal Shoppes, anchored by a three-story flagship Barneys New York.
A premier events and conference center, the resort is also home to more than 2.3 million square feet of meeting and convention space, including The Venetian and The Palazzo Congress Center and famed Sands Expo Convention Center. For more information, visit venetian.com. The Venetian Resort Las Vegas is a property of global integrated resorts developer Las Vegas Sands Corp. (NYSE: LVS).
TRENDS IN CELEBRATION TRAVEL
According to AARP, 13% of the domestic trips planned for 2019 for Baby Boomer travelers are considered celebration-related or reunion-related vacations. (2019 Boomer Travel Trends – AARP)
According to MMGY Portrait of American Traveler study, 54% of travelers took a vacation in 2017 to in honor of a special occasion, including birthdays, anniversaries, family reunions, weddings, graduations, bachelor/bachelorette party, or retirement. (2017 MMGY Portrait of American Travelers®study)
YEAR OF CELEBRATIONS TIDBITS
Celebrations Experience Packages – The Celebrations Team at The Venetian Resort has created several turnkey packages to help plan the most memorable celebration vacation from start to finish.  Curated itineraries for bachelor, bachelorette, anniversary and birthday visits include the services of a dedicated Celebrations Specialist, and an appropriate collection of activities for an unforgettable experience.
Rosina Celebration Cocktail Secret Menu – Rosina, located in The Palazzo casino, is an elegant and luxurious cocktail retreat, boasting a menu of beloved originals, crafted with the highest quality ingredients, and served in an environment that embodies seductive glamour. For the unapologetically adventurous, Rosina offers several "secret menus" with unexpected riffs on the classics. In honor of Year of Celebrations, Barman Sam Ross curated the newest additions to this exclusive list of cocktails for those "in the know." This new "Celebration Cocktails" secret menu includes five choices that each add a bit of revelry to the classic Champagne cocktail. Ask your server or bartender for more details.
Gin, fresh lemon, black cherries, egg white & Champagne
Aged rum, fresh lime, mint, Angostura bitters & Champagne
Gin, fresh lemon, elderflower, orange bitters & Champagne
Tequila, fresh lime, house-made pomegranate grenadine, bitters & Champagne
Cynar, passionfruit, lemon, Champagne & club soda