Sonoma County Cuisine and Wine News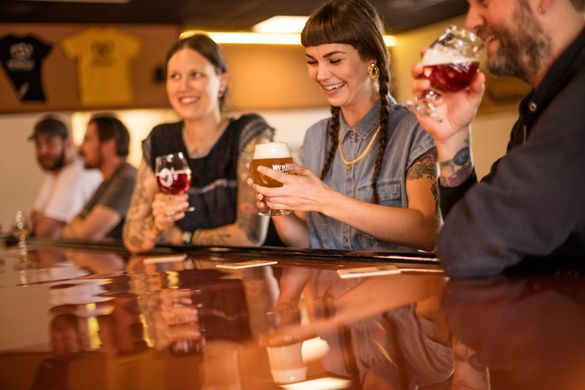 SONOMA COUNTY, CALIFORNIA — As summer draws to a close things are busy in Sonoma County, where the grapes hanging heavy on the vines, harvest is in full swing, and plans for a wide variety of new events, tasting and tap rooms, eateries, lodgings, shops, and more are coming to fruition.
There's so much to savor here in Sonoma County. Simple pleasures, like food from the farm to your table. Wine from the heart and soul of wine country. Natural wonders like towering redwoods and the rugged Northern California coastline. Sonoma County calls you to open up and experience life's sweet subtleties. So, join us and discover it for yourself
HerVENTS
Feast Over the Russian River debuts Oct. 6
Experience a Sonoma Wine Country dining experience like none other, at the first-ever Feast Over the Russian River from 4-8 p.m. on Sunday, Oct. 6.
Enjoy an evening of wine, food, friends, and live music on the historic Guerneville Bridge above the beautiful Russian River. A reception, mingle, wine, and hors d'oeuvres kick off the evening from 4-5 p.m., and seating starts at 5 p.m. Dine on a meal prepared by some of Sonoma County's best-of-the-best chefs while sipping world-class Sonoma County wines in a truly unique setting.
Built in 1922, the metal truss bridge spans a highly scenic stretch of the Russian River. It carried Highway 116 traffic across the river until a newer bridge was built upstream in the late 1990s. Today the Guerneville Bridge is open to pedestrians and cyclists. Proceeds from Feast Over the Russian River benefit the Russian River Chamber of Commerce and Visitors Center.
Russian River Chamber of Commerce
16209 1st St.
Guerneville, CA 95446
707-869-9000
russianriver.comchamber-of-commerce
First 'The Freshtival' beer festival set for Oct. 12
Only craft beers straight from the brewery and less than seven days old will be poured in the main festival area of The Freshtival, a special beer festival set to debut Saturday, Oct. 12, in Rohnert Park, in central Sonoma County.
Hosted by HenHouse Brewing Company in collaboration with the Bay Area Brewers Guild, The Freshtival will feature more than 100 different fresh-from-the-brewery beers, plus live music, delicious food, a gallery of beer industry art, and interactive beer-freshness edutainment. Admission is $20-$55; proceeds benefit the Bay Area Brewers Guild.
The Freshtival
SOMO Village
1100 Valley House Drive
Rohnert Park, CA 94928
707-978-4577
www.henhousebrewing.comthefreshtival
Pinot on the River moves to Santa Rosa Oct. 5
After more than 15 years of pouring limited-production West Coast Pinot Noirs in Healdsburg, the annual Pinot on the River festival is relocating to Old Courthouse Square in Santa Rosa, in central Sonoma County.
Enjoy some of the best Pinot Noirs that California has to offer as more than 40 small-production artisanal wineries join with guest artisan food vendors from 11 a.m. to 3 p.m. on Saturday, Oct. 5, 2019 to celebrate all things Pinot Noir. Meet the winemakers and other Pinot-loving consumers. Proceeds benefit Sonoma County Pride.
Pinot on the River
Old Courthouse Square
Santa Rosa, CA 95404
707-433-0433
Healdsburg Crush pours in the plaza Oct. 20
Stroll through the historic Healdsburg Plaza while sampling limited-production West Coast Pinot Noir, Chardonnay, Sparkling Wines, and a few longtime favorites at the inaugural Healdsburg Crush festival from 11 a.m. to 3 p.m. on Sunday, Oct. 20, 2019, in the Russian River Valley town of Healdsburg in northern Sonoma County.
More than 60 wineries will be pouring and will be joined by several local food vendors. The event also features a silent auction boasting a large collection of locally produced Pinot Noir, as well as raffles for instant wine cellars and premium large-format bottles. All proceeds benefit the Boys & Girls Clubs of Sonoma-Marin.
Healdsburg Crush
Healdsburg Plaza
Healdsburg Avenue and Matheson Street
Healdsburg, CA 95448
707-528-7977
Pumpkin Nights coming to Sonoma County Fairgrounds
Santa Rosa becomes one of four cities nationwide hosting Pumpkin Nights when the interactive Halloween experience comes to the Sonoma County Fairgrounds from Thursday, Oct. 10 to Sunday, Nov. 5.
Pumpkin Nights was founded in 2016 at the Minnesota State Fairgrounds with a mission to showcase local artists and celebrate this magical time of year without the gore and scares.
Guests are transported to an enchanted world with dazzling, multi-sensory Halloween displays and seven Pumpkin Lands created with more than 3,000 artistically hand-carved real and synthetic pumpkins.
There's also a fire show, an outdoor movie screening, a bounce house for the little ones, a variety of treats and drinks, and more at Pumpkin Central. Tickets are advance purchase only, at $20 general (ages 13-59), $18 seniors (60-plus), $16 children (4-12), and free for 3 and under; a family pack for two adults and two kids is $65.
Pumpkin Nights
Sonoma County Fairgrounds
1350 Bennett Valley Road
Santa Rosa, CA 95404
707-545-4200
WINERIES
Jordan's Rob Davis hands winemaking duties to Maggie Kruse
Considered one of the longest-tenured winemakers in Sonoma County, Rob Davis of Jordan Vineyard and Winery is turning over the lead winemaking and mnagement responsibilities to Maggie Kruse.
Davis, who has worked at Jordan since the inaugural 1976 harvest, is transitioning into the newly created role of winegrower at Jordan. Kruse has worked alongside Davis for the last 13 harvests.
"For family businesses like ours, leadership changes like this only come around two or three times in a century," said John Jordan, CEO and proprietor of Jordan Vineyard & Winery. "This newly created position will allow Rob to focus entirely on grape growing while letting Maggie take on more leadership responsibility after 13 years of dedication to the company."
Founded in 1972, Jordan Vineyard & Winery was inspired by the great wine estates of France and the timeless connection between food, wine, and hospitality. The estate includes an iconic chateau, formal dining room, breathtaking views, sustainably farmed vineyards, natural habitat for wildlife, and a garden for the chef's inventive cuisine. The winery offers a variety of tour and tasting experiences, all of which include food and wine pairing (by appointment only).
Jordan Vineyard & Winery
1474 Alexander Valley Road
Healdsburg, CA 95448
707-431-5250
Capo Creek Winery offers unique pairings
The newest winery on West Dry Creek Road in Sonoma County's beautiful Dry Creek Valley, Capo Creek Winery is garnering attention for its delicious food and wine pairings led by winemaker, chef, and owner Mary Roy.
The one-hour Flight of the Day tasting experience ($35) features five premium wines with the bite of the day. On the two-hour Ultimate Food & Wine Pairing ($85), Roy presents six courses of food and wine in a unique setting. Or, allow three hours for the Ultimate six-course pairing together with a private tour of the vineyard and wine cave ($135). Even better, join Roy in the kitchen for Cook & Sip ($235 per person, minimum three people), a fun-filled customized experience playing with food and wine. The Flight of the Day is sometimes available to walk-ins, but otherwise reservations are required.
The winery's logo is a musical "capo" — a clamp fastened across all the strings of a musical instrument — to reflect a return to life's simplest pleasures, from the clear melodic sounds of songbirds to acoustic guitar strings. Capo Creek Ranch is a peaceful oasis from the hectic pace of everyday life. The winery focuses on nurturing its grapes from infancy into luscious complex wines.
Capo Creek Winery
7171 W. Dry Creek Road
Healdsburg, CA 95448
707-608-8448
Flowers Winery opens Healdsburg tasting room
Taste iconic wines from the Sonoma Coast in the new House of Flowers tasting room, just minutes from downtown Healdsburg in northern Sonoma County.
Founded 30 years ago on a remote location 1,800 feet above the craggy Pacific coastline, Flowers Vineyards & Winery helped define the style of Sonoma Coast wines with terroir-driven Pinot Noir and Chardonnay. However, the remote location made it difficult for wine lovers to visit.
Set within a redwood grove in a renovated 1970s-era winery and gardens, the new House of Flowers tasting room offers high ceilings, skylights, blond cypress walls, a dramatic stairway, and floor-to-ceiling windows that slide open to access the patio, private sun room, and gardens. The tasting room is open daily, with a limited number of walk-in appointments available each day; reservations are required for the full House of Flowers experience.
House of Flowers
Flowers Vineyard & Winery
4025 Westside Road
Healdsburg, CA 95448
707-723-4800
4th Street Cellars wine bar features artisan wines
Pull up a chair at the tasting bar or sink into a plush seat near the fireplace at 4th Street Cellars, a family-owned wine tasting lounge and wine bar featuring the handcrafted artisan wines of Bonneau, Egret, and Opal Moon wines.
Located in a century-old storefront in Santa Rosa's historic Railroad Square district, 4th Street Cellars offers wines in tasting flights or by the glass or bottle. The Bonneau family, with three generations of growers and winemakers, crafts these distinctively classic and elegant wines.
Local musicians perform at 4th Street Cellars on Friday evenings, and it's easy to order in food from the many nearby Railroad Square restaurants.
4th Street Cellars
127 Fourth St.
Santa Rosa, CA 95401
707-806-2779
Meadowcroft Wines revamps tasting room to bring outside in
A 10-foot interior green wall and grapevines surrounding the private patio are just a few of the striking features in the newly renovated Meadowcroft Wines tasting room in Cornerstone Sonoma, in the southern Sonoma Valley.
The renovations focused on bringing a feel of the outdoors inside, said Tom Meadowcroft, owner and winemaker. The interior boasts new comfortable seating, the group tasting area offers new seating and tables perfect for groups of 12 or more, and the patio includes upgraded furniture and a new standing bar area. In addition to being surrounded by living grapevines, the walls of the private patio are adorned with gorgeous succulent arrangements.
Named one of the Top 100 Wineries of 2019 by Bonforts Wine & Spirits, Meadowcroft crafts vineyard-specific, limited-production wines, expressing both European wine heritage and California creativity. The tasting room offers a variety of experiences, including a stroll through a vineyard and a chance to make your own perfect wine blend.
Meadowcroft Wines
23574 Arnold Drive
Sonoma, CA 95476
707-934-4090
BREWERIES AND CIDERIES
Seismic Brewing opens Sebastopol taproom
You can now taste the flavorful and sustainable craft beers from Seismic Brewing Company in its new taproom in The Barlow center in Sebastopol, in western Sonoma County.
Founded by Christopher Jackson, of the family that created Jackson Family Wines, Seismic Brewing began shipping its beers to Sonoma County bars and restaurants in 2017, followed by selling six-packs of cans in supermarkets and specialty stores. Now beer lovers can taste its brews and learn more about Seismic in its modern, open, and inviting 4,000-square-foot taproom.
Boasting floor-to-ceiling windows, wood-paneled walls, and outdoor spaces, the new taproom features a choice of 12 rotating taps, including some of the brewery's award-winning favorites as well as small-batch and barrel-aged offerings only available at the taproom.
All Seismic beers are made in a sustainable manner, using practices that support ecological, human, and economic health and vitality now and for years to come. The brewery is designed to maximize water and energy efficiency, the spent grain is donated to a local rancher as nutrient-rich animal feed, the tap handles are made with Forest Stewardship Council-certified woods, and employees are paid a legitimate living wage — just to name only a few of the efforts made to keep the brewery as sustainable as possible.
Seismic Brewing Company
6700 Sebastopol Ave.
Sebastopol, CA 95472
707-544-5996
Golden State Cider taproom opens in The Barlow
Sip apple-driven dry ciders in the new Golden State Cider taproom in The Barlow center, in Sebastopol in western Sonoma County.
In addition to the chance to drink cider, the taproom offers four-packs to go for picnic adventures, and a one-of-a-kind pairing menu with food from the neighbors at The Barrio Cocina. The ciders are made with West Coast-grown apples from California, Oregon, and Washington. All Golden State Ciders are vegan-friendly, gluten-free, and made with no concentrates.
Co-founders Hunter Wade and Jolie Devoto started the cidery in 2012 on a small organic apple farm, and sold their golden liquid exclusively at Bay Area farmers markets for the first couple of years. Cider making became a full-time obsession, and Golden State Cider was born, based on the idea that great cider starts with quality fruit.
Golden State Cider Taproom
180 Morris St., Suite 150
Sebastopol, California 95472
707-827-3765
RESTAURANTS & EATERIES
Dine, play, relax at Wine or Lose Board Game Café
Enjoy American comfort food in a shared "tapas" style, with specialty sodas, wine, beer, and a vast library of board games at the new Wine or Lose Board Game Café in Petaluma, in southern Sonoma County.
With more than 25 years of experience as a restaurant owner, general manager, and executive chef, café owner and chef Craig Karas believes that food doesn't have to be complicated to be good, and great memories are made sharing great food and a fun board game.
The menu of shareable American comfort food includes corn fritters with local honey butter, mini meatloaf (also available plant based), chicken and waffles, roasted Brussels sprouts, a cheese plate, a charcuterie plate, salads, onion dip with house made chips, and PB&J sticks for the kiddos. For dessert, choose between an ice cream sandwich, apple fruit crisp, and bread pudding. Brunch (on Saturday and Sunday only) offers items like Champagne baked egg, French toast fries, and avocado toast.
Play while dining, choosing from a library of more than 200 games, from classics like chess, Go, Candyland, and Chutes and Ladders, or new favorites like My First Ticket to Ride. Gamers can enjoy modern titles like Catan and Carcassonne, as well as some Kickstarter favorites.
Wine or Lose Board Game Café
131 Kentucky St.
Petaluma, CA 94952
707-773-4743
Jam's Joy Bungalow adds Sebastopol café
After offering pop-up, sit down food truck meals at private events, breweries, and other venues all over Sonoma County, Jam's Joy Bungalow now serves its "vibrant food for spirited people" in a café in Sebastopol, in western Sonoma County.
Owner Jamilah Nixon-Mathis grew up spending summers learning to cook with her Mexican grandmother and Creole grandfather. After living and learning to cook in rural Thailand, she worked in restaurants off and on while in college, and then opened a restaurant with two partners in Sebastopol. When the partnership ended, she became a private chef, and then started the Jam's Joy Bungalow food truck, offering Southeast Asian cuisine on wheels.
Now you can order from the counter at her new brick-and-mortar café, where the menu features a daily curry, crisp salads laced with herbs and tangy dressings, rice noodle bowls with curried peanut sauce, pho dip sandwiches, jok rice porridge, Vietnamese coffee, Thai ice tea, and Vietnamese banh mi sandwiches stuffed with barbecue, jalapeno, and pickled veggies. Many of the dishes are naturally gluten free, and several vegan options are available. The café is open daily, 7 a.m. to 3 p.m.
Jam's Joy Bungalow
150 Weeks Way
Sebastopol, California 95472
707-843-9001
Corks & Taps adds weekend brunch
A small, family-friendly restaurant that specializes in wine and beer, the recently opened Corks & Taps in Windsor in central Sonoma County now offers brunch from 10 a.m. to 2 p.m. on Saturday and Sunday.
Located just steps from the bustling Windsor Town Green, Corks & Taps brings the spirit of Sonoma County together in the form of beer, wine, and bites. The brunch menu includes classic breakfast items such as French toast sticks, omelets, and breakfast burritos, as well as mimosa flights and bottomless mimosas.
Happy Hour is offered from 3-6 p.m. Wednesday to Friday and all day Sunday. The restaurant has also expanded its weekly specials, adding Windsor Wednesdays with 50 percent off all snack bites for local residents, and Flatbread Fridays, with one-topping flatbreads for $8.
Corks & Taps
1001-1007 McClelland Drive
Windsor, California 95492
707-837-5654
Plank Coffee adds Healdsburg location
After seven years serving coffee, tea, and mouth-watering pastries in Cloverdale, Plank Coffee and Roastery owners Marne Dupere and Mike Morisette recently expanded by adding a second location on Dry Creek Road in Healdsburg.
Both sites serve espresso, macchiatos, cappuccinos, lattes, and a host of chocolate and blended beverages, as well as a large selection of organic teas. They also offer vegetarian and vegan soups, smoothies, frittatas, hand pies, burritos, French toast, and more.
Carefully selected vintage décor graces both locations, with string arts, birds, and butterflies featured in Healdsburg. Plus, two of the walls in the Healdsburg shop are decorated with painstakingly cut wood rounds that came from fallen logs on a friend's property.
Plank Coffee Healdsburg
175 Dry Creek Road
Healdsburg, CA 95448
707-894-6187
www.facebook.comPlank-Coffee-407268909297286/
j. gallery features fine art in downtown Santa Rosa
Offering an eclectic mix of original works in a variety of mediums by mostly contemporary artists, the new j. gallery in downtown Santa Rosa is the culmination of a more than 30-year dream for owner Judy Reilly.
From the moment Reilly enrolled in an art appreciation course in college she was hooked on art as an observer, appreciator, marketer, and patron. After working for various galleries through the years, mainly in San Francisco, Reilly recently retired from her "day" career at a private reading school. Holding firm to her belief that art feeds our souls and enriches our lives, she immediately began making her dream of owning her own gallery into a reality.
The j. gallery showcases works by Chet Amyx, Gary Janis, James Keeton, Naomi Marino, Teresa Onoda, Manika Rossa, and Nancy Willis. The gallery is open 11 a.m.-6 p.m. Tuesday to Saturday; 12-5 p.m. Sunday; and by appointment (closed Monday).
j. gallery
311 D St.
Santa Rosa, CA 95404
707-521-9098
Jam Jar brings artistic fun to Healdsburg
Discover jewelry, art, home décor, vintage finds, and other one-of-a-kind items by local artists in a working studio space at the new Jam Jar in Healdsburg, in northern Sonoma County.
Owners Jaime Jean Wilson and Molly Hills Perez originally founded Jam Jar in downtown Santa Rosa. After opening a second location in the Guerneville Bank Club in the Russian River town in Guerneville, they closed their Santa Rosa site and have now opened a new shop in Healdsburg.
Both Jam Jar stores feature works by Wilson and Perez as well as that by other local creatives, like Ray Degischer of Country Industrial, Retro-Fit Home, and curated vintage furnishings by Michelle Schultz.
Jam Jar Healdsburg
126 North St.
Healdsburg, CA 95448
707-508-6664
Follow WebBandStand for everything that is cool that matters.