Sofitel Melbourne on Collin's Terracotta Warriors: Guardians of Immortality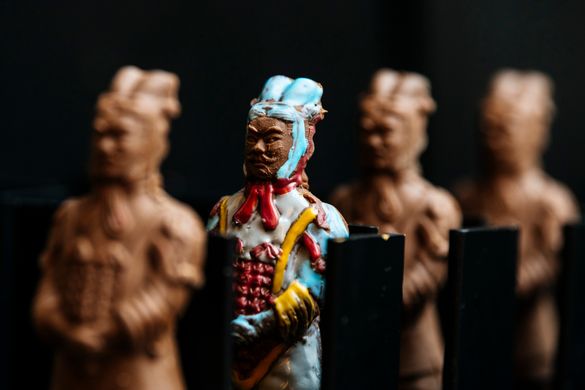 ---
Sofitel Melbourne On Collins and Dulux®, Australia's most trusted paint brand, are coming together to celebrate Terracotta Warriors: Guardians of Immortality the new Melbourne Winter Masterpieces exhibition at the National Gallery of Victoria.
The collaboration features an Asian-infused High Tea buffet where guests are invited to paint chocolate Terracotta Warriors back to their original colours.
Over 2,200 years has passed since anyone has seen the original colours of the Terracotta Warriors. Due to their fragility and transparent lacquer coating colours have since faded or peeled off. High Tea goers will need to use their imagination to choose from four flowing fountains of edible Dulux Mint Twist, Dulux Symphony Red, Dulux Midas Touch and Dulux China White colours.
Sofitel's General Manager, Clive Scott mentions, 'This new high tea concept is quite unique, bridging the Chinese culture of the past with the artistic flair of our very talented international pastry chef, David Hann'.
David has led the creative process of the Asian infused high tea, highlighted by his crispy Wonton with chocolate, ginger and pineapple. All the desserts will be accompanied by a hot buffet selection of Chinese favourites, such as steamed pork buns and crispy fried wontons.
High tea gastronomes can embrace their inner artist at Sofi's Lounge from 2.30pm every Saturday and Sunday from 25th May until 13th October 2019 for $99 per adult.
To book, visit www.sofitel-melbourne.com.au or phone (03) 9653 7744 or email H1902-re13@sofitel.com
END
Sofitel, AccorHotels' authentic luxury brand, blends local culture and French art de vivre to create magnificent moments for international travellers seeking a uniquely elegant experience.
Guests staying at one of Sofitel's 120 addresses will enjoy design, culture, gastronomy and wellness. All over the world, Sofitel promises travelers looking for contemporary accommodation, a skillful blend of local culture and French art de vivre. Each address is distinctive, with its own "cousu-main" service, stylish interior, and inspired and creative gastronomy. The brand's hotels are located in large cities like Paris, London, Berlin, New York, Rio de Janeiro, Dubai, Bangkok, Singapore and Shanghai, or set against wonderful landscapes in destinations like Morocco, Egypt, Thailand and even French Polynesia.
Follow WebBandStand for everything that is cool that matters.