San Diego New Restaurants and Speakeasies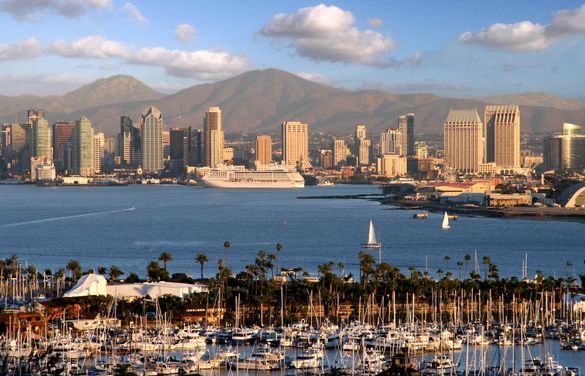 Opening spring 2019 and featuring world-renowned celebrity chef Akira Back, Lumi is an energetic and upscale rooftop venue serving modern Japanese fare and sushi accompanied by handcrafted libations. Akira Back is a two-time Michelin-starred chef behind restaurants spanning across nine countries. Lumi will feature adventurous flavors with a California twist, using local ingredients combined with influences from around the world for an immersive dining experience. Guests will enjoy views of the city at this eclectic and chic space, located in the heart of downtown's Gaslamp Quarter.
In May 2019, celebrated chef Michael Mina joins with partner Ayesha Curry to bring their globally-inspired barbeque restaurant, International Smoke, to San Diego's affluent Carmel Valley neighborhood. The stylish venue will serve international dishes by acclaimed chefs from Mina's slate of award-winning restaurants. Chef Mina earned two Michelin stars in 2006 for his Michael Mina restaurant in San Francisco.
Also opening May 2019, Il Dandy is the latest culinary venture from Calabrian-born brothers Dario and Pietro Gallo. The brothers will be joined by father and son duo, Antonio and Luca Abbruzzino, who will be relocating to San Diego to helm the kitchen. Chefs Antonio and Luca Abbruzzino earned Michelin stars in 2013 for their eponymous restaurant in Calabria. Located in the uptown Bankers Hill neighborhood, Il Dandy will offer a contemporary approach to cuisine rooted in Calabria, showcasing the talents and mindful technique of the chefs while educating guests on the healthy benefits of a Mediterranean diet. A thoughtfully curated cocktail program featuring Italian aperitifs and wine and beer selections from the Calabria region will complement the menu.
In May 2019, Executive Chef Matt Sramek, an alumni of Thomas Keller's Bouchon restaurant, opens Little Frenchie bistro in the charming community of Coronado. Located in an historic 1911 circa building, the restaurant celebrates the Nouvelle French cuisine of Sramek's early culinary training as a graduate of Le Cordon Bleu (Pasadena, California) and his work alongside many of Southern California's culinary icons over the last decade. The restaurant will offer French bistro classics and an ambitious cheese program.
San Diego is adding another speakeasy to its cocktail scene, and possibly the world's only speakeasy located next door to a cemetery. Opened in November 2018 in Old Town San Diego, the new mezcal bar and restaurant Tahona, will add on a speakeasy called Oculto 477 in June 2019. The intimate space will seat 25 guests and be lit by candlelight―specifically, 477 candles to represent the 477 souls buried next door in the historic El Campo Santo Cemetery. Oculto 477 plans to provide an elevated level of craft cocktails, many incorporating artisanal mezcal and all designed to provide multi-sensory experiences.
Happiness is calling in San Diego. For more information on San Diego's offerings, including exciting vacation packages and valuable coupons for attractions, restaurants and more, visit the San Diego Tourism Authority's website at www.sandiego.org.
Follow WebBandStand for everything that is cool that matters.