One of a Kind Dining Experience at Ocean House, Rhode Island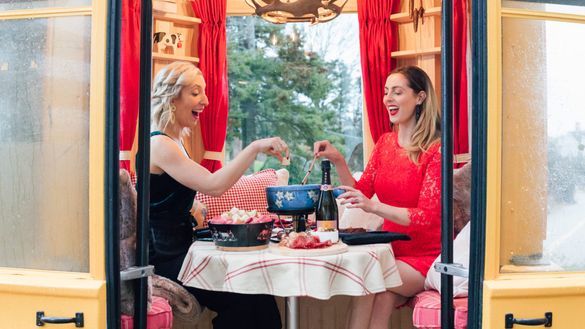 ---
Get a taste of the Swiss Alps but in Rhode Island! Enjoy a 3 course meal and champagne in a vintage ski gondola at the Ocean House Resort. This unique dining experience is available until 14th February.
While it may not be around for too long, we've mapped out five other unusual New England eateries to get your teeth into. Enjoy!
The Fondue Express, a new Alpine-inspired dining experience that not only brings the culinary delights of the Swiss Alps to Rhode Island but a whole ski gondola! Located at the Ocean House in Watch Hill, this unique and luxurious dining experience allows guests to dine in a vintage cable car, modified to include heated wood floors, plush seating and decadent Swiss décor.
The first of its kind in North America, visitors will savour a three-course menu including Raclette, cheese fondue, bratwurst, Rösti potatoes and other Alpine delicacies complete with Veuve Clicquot champagnes.
The pop-up eatery is available until the 14th February 2019 so those wanting to enjoy this culinary experience will need to book quickly to avoid disappointment. Dinner costs $75 per person (maximum of 4) or $115 per person with wine pairings (plus gratuity and taxes). A portion of all proceeds will go to the Ocean House Fund for Charitable Giving, which helps children and families in need.
The Fondue Express isn't the only unusual and imaginative dining experience available in New England either. We've picked out some notable restaurants from across the region.
Connecticut – Uncle Buck's Fish Bowl & Grill, Bridgeport brings the wonders of the ocean to guests! Sharks and sea critters are suspended from the ceiling and the bar area features a 3,500-litre saltwater aquarium. This family-friendly restaurant creates an atmosphere that really makes visitors feel like they are dining underwater. The menu has casual American fare that features tasty burgers, sandwiches, and salads. After eating, dive into their one-of-a-kind bowling alley for more under the sea themed fun.
Maine – Located in a vintage Pollard Company dining car—one of two left in America— Palace Diner is Maine's oldest diner and with only 15 seats it might be the smallest too. Choose from a small but delicious menu of American breakfast favourites and comfort food whilst soaking up the sounds of the Rolling Stones. It's the perfect breakfast stop on a road trip through Maine.
Massachusetts – Dick's Last Resort, Boston might be the most unusual on our list. It is the perfect spot for diners who like bad service, being verbally abused and being made to wear rude paper hats! The servers are trained to be as bad-mannered and sarcastic as possible creating a truly unique dining experience! Visitors can choose the level of sarcasm from their waiter.
New Hampshire – Food and flicks come together at Chunky's Cinema Restaurant, Pelham. Binge on the latest cinema releases from the comfort of oversized seats taken from Lincoln town cars, all the while chowing down on some classic American comfort food. From pulled pork mac n' cheese to butter beer floats, the team will get the order right – without interrupting the movie.
Follow WebBandStand for everything that is cool that matters.