Festivals, Fireworks and Fantasy Forge in Olympia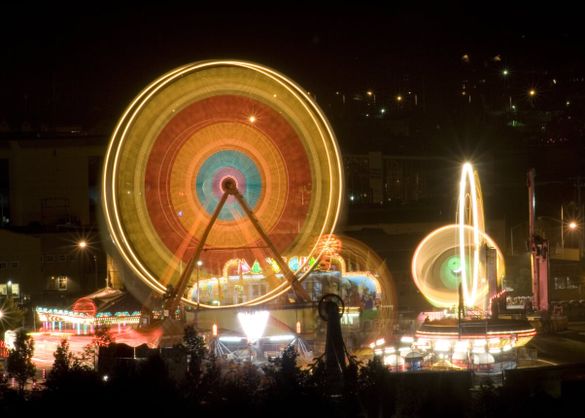 ---
Olympic Air Show, June 15 – June 16, 2019 
The Olympic Air Show held over Father's Day weekend at the Olympic Flight Museum from 9 a.m. – 5 p.m., is the ideal treat for fathers, grandfathers and father figures. This 20th annual event will feature an air show, as well as heritage aircraft from the museum's collection, featuring aircraft WWII, Korea and Vietnam eras. Tickets are $15 at the door or $12 online, children under six are free. For more information visit, olympicairshow.com.
Visitors are invited to travel back in time for Thurston County's largest medieval/fantasy festival this summer. Bring the family for castle battles and tournaments, black powder demonstrations, a kid's carnival, live music and of course – medieval attire. Surrounded by knights, knaves, fae, pirates and Vikings, guests are also invited to immerse themselves in the medieval fantasy world by opting to camp onsite ($25), the general event is free, and parking only $10. For more information visit, allsfaire.org/.
28th Annual America's Classic Jazz Festival,  June 27-30, 2019 
Guests are invited to put on their dancing shoes for 4 days of fun at the 28th Annual America's Classic Jazz Festival held at the Saint Martin's University Campus – Marcus Pavilion in Olympia. In addition to great live music and bands visitors are encouraged to partake in dance lessons to learn classic dances such as the Balboa, Foxtrot and the Charleston. For more information on ticketing and nearby lodging visit, www.olyjazz.com/festival.
Lacey Fireworks Spectacular and Freedom Concert,  July 3, 2019  
Celebrate Independence Day in Lacey with the Fireworks Spectacular Show and Freedom Concert at Rainier Vista Community Park. Guests are encouraged to pack a picnic or feast on fair-style food from a variety of vendors. Enjoy live music, kids' activities and family fun.  Live entertainment includes local rock band, 'Full Metal Racket' and Heart tribute band, 'Heart by Heart'. The fireworks show starts at 10 p.m. sharp. For more information visit, ci.lacey.wa.
City of Tumwater Independence Day Parade,  July 4, 2019  
For more than 25 years and counting the city of Tumwater has hosted its annual Independence Day Parade.  The parade kicks off at 11 a.m. beginning at the corner of Capitol Blvd. & Lee St., and ending at the Linderson Way & Israel Rd. intersection. Following the parade, guests are encouraged to head to the Tumwater Valley Golf Course driving range where music, food, games and of course, fireworks will be waiting. For more information visit, ci.tumwater.wa.
Lacey In Tune Summer Concerts & Entertainment, July 10 through August 14, 2019  
Summertime in Thurston County is all about sunshine, exploration and diving into festivals and events! One of the main attractions for families this season is the Lacey in Tune series, where guests will find a wide array of entertainment that can be enjoyed by every member of the family. Highlights include Seattle's own Beatles tribute show by the band 'British Export' and family friendly movies in the park such as 'The Incredibles'.  The series runs all summer at Huntamer Park, with everything from evening movies to musical acts for seven straight weeks.  For more information visit, ci.lacey.wa.
South Sound BBQ Festival, July 13, 2019  
It's grilling time! And what better place to start than the South Sound BBQ festival, where you'll not only find grillable delights, but the perfect side dishes as well. Celebrate with the top barbeque restaurants in the region during a special cook-off, sip locally in the wine and beer garden and enjoy live music.  For more information visit, southsoundbbqfestival.com.
Capital Lakefair Olympia,  July 17 through July 21, 2019  
From carnival rides and family friendly games, basketball and volleyball tournament, a car show and a spectacular display of fireworks, Capital Lakefair offers visitors five-days of pure fun.  The LakefairGrand Parade (July 20) is one of the largest in the region kicking off with pre-parade festivities at 4:45pm to get the crowd warmed up and leads into the main event at 5pm. The parade route begins along Capitol Way at 20th and continues down to 5th Ave.  Enjoy a grand finale firework display the following evening (July 21) over Capitol Lake. For more information visit, lakefair.org/.
Washington State Senior Games,  July 26 through July 28, 2019 
Hailed as the largest Olympic-style multi-sport event in Washington, nearly 2,000 competitors will take part in the upcoming Washington State Senior Games this year. Sports range from traditional to quirky like golf, table tennis, pole-vaulting, cowboy-action-shooting and more.  The Washington State Senior Games are open to all athletes and abilities, 50 years of age or "better."  Spectators are welcome and encouraged.  For more information visit, washingtonstateseniorgames.com/.
Thurston County Fair,  July 31 through August 4, 2019  
Is it even summer if you don't visit a county fair? Well, Thurston has got you covered with their traditional, fun-for-the-whole-family long weekend event. You can find everything from home arts, to barrel racing, games, animals and contests. For more information visit, co.thurston.wa.us/fair/.
Olympia Brew Fest, August 3, 2019  
Held in the heart of the state capital on Percival Landing, guests are invited to enjoy live music, local fare and Washington's finest craft beers at the Olympia Brew Fest.  Sip a brew while soaking in the view of the Olympia waterfront with more than 30 breweries on hand to choose from. Tickets are $25 in advance and $30 at the door.  For more information visit, olybrewfest.com/.
Artesian Brewfest, August 17, 2019  
Toast local brewers and the history of the region in the shadow of the historic Olympia Brewery at this summertime sipping spectacular. Find more than 130 brewing choices, like specialty beers, exclusive collaboration beers, and local cider, spirits and wine at this one-of-a-kind event. Guests are encouraged to take-part in putt putt golf, beer pong or challenge their physical fitness at the stein-holding competition.  For more information visit, tumwaterartesianbrewfest.com/.
Olympia Harbor Days, August 30 through September 1, 2019  
See the world's largest vintage tug boat race, celebrate the end of summer and the scenic Puget Sound at this annual three-day event.  Evening sails, adventure sails, battle sails and vessel tours are available. Vintage tugboats, retired or working, are moored at Olympia's Percival Landing, and open for tours on Saturday. On Sunday, the tugs leave shore at noon to participate in the annual World's Largest Vintage Tugboat Races and Show. In addition to the watercraft, guests are encouraged to enjoy the family friendly activities and fresh fare.  For more information visit, harbordays.com/.
Earth-UFO Fest, Last Weekend in August
Visitors from near and far are invited to the Earth UFO Fest that's literally out of this world. Once just the Yelm UFO Fest, the annual event has grown so much that they're now the Earth UFO Fest! Expanding to the Thurston County Fairgrounds, the weekend-long event boasts indoor and outdoor stages, where they'll have everything from astronauts to hot air balloon rides, to UFOs and flying saucers! Don't believe it? Come see for yourself.  For more information visit, Yelm UFO Fest.
Lacey Children's Day, October 5, 2019  
Dinosaurs will come to life at this year's Lacey Children's Day with car sized mechanical dinosaur suits and lifelike puppets making for an unforgettable day. Kids and families are invited to partake in games, activities, arts & crafts, food, entertainment, and more! The event is held rain or shine at HuntamerPark in Woodland Square. For more information visit, Lacey Children's Day.
Downtown for the Holidays: Kickoff – December 1st, 2019  
Kick off the holiday season at downtown Olympia's "Downtown for the Holidays" celebration, a festive seasonal tradition. Guests will find gingerbread houses, wagon and trolley rides, photos with Santa, a parade and a tree-lighting ceremony. Bundle up and stroll downtown for the kick-off of Twinklefest, where downtown businesses reveal elaborate displays that will stay up throughout the season.  For more information visit, downtownolympia.org/.
Lacey Parade of Lights and Lighting of the Christmas Trees, December 1st, 2019
Guests are encouraged to get into the holiday spirit with the Lacey Parade of Lights on Monday December 1st at 6:30 p.m. with a tree lighting to follow. The Lacey Parade of Lights invites visitors to decorate their vehicles with Christmas lights and take part in a driving parade that brightens the streets of Lacey. The annual tree lighting takes place at Huntamer Park. For more information visit, ci.lacey.wa.
Tumwater Christmas Tree Lighting Festival, December 14, 2019 
This popular holiday event includes games, holiday crafts, performances by local and school choirs, and of course, the lighting of the tree. Santa will arrive on an antique fire truck after the ceremonial tree lighting to share his joyful laugh and spread some holiday cheer.  For more information visit, ci.tumwater.wa.
Lacey Polar Plunge, January 1st, 2020 
Wrap up your holiday celebrations with one of the oldest New Year's traditions – the Lacey Polar Plunge.  Dive into the icy water at Long Lake and make an unforgettable splash into the New Year. Jumpers wear swimsuits, wetsuits, and even costumes during the event. Whether you want to cheer from the shoreline or take a leap of faith, all are encouraged to take part in this free, frigid event. Campfires, music, and hot cocoa begin along Long Lake Park at 12:00 p.m. New Year's Day. For more information visit, ci.lacey.wa.us.
About Experience Olympia & Beyond 
Experience Olympia & Beyond is the official destination marketing organization of Thurston County. A naturally-inspired, approachable destination situated at the foot of Puget Sound one hour south of Seattle and two hours north of Portland by car, Washington's capital community inspires handcrafted getaways. Whether it's sampling the latest artisan delights from culinary characters or blazing a new trail, Olympia and beyond beckons free spirits, gourmands and weekend warriors alike with something new. With more than 2,700 hotel rooms throughout Thurston County there are several options ranging from downtown digs to traveler-friendly rooms. For more information visit experienceolympia.com or connect on Facebook, Twitter (@Experience_Oly) and Instagram (@ExperienceOly).
# # #
Follow WebBandStand for everything that is cool that matters.