Europe's Best Music Festivals That Won't End in a Fyre-Style Saga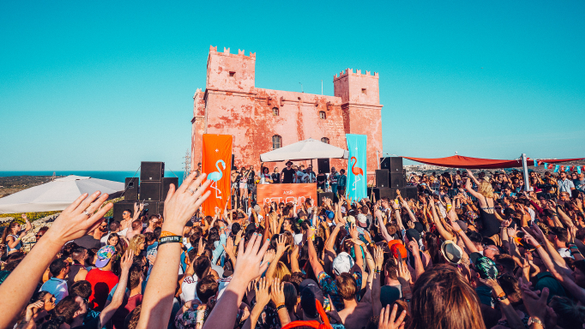 ---
dealchecker knows that music-lovers ahead of the curve are always on the lookout for up and coming or one-off music festivals to discover before the crowds descend. That's why the travel experts have put together a list of Europe's best music festivals that won't flop like Fyre.
The 'Scenic' One – Kala Festival, Albania on 12 – 15 June
Photo Credit: Kala.al
In a prime location beside golden sands and wooded hillsides in the seaside town of Dhërmi, Kala Festival is the one to watch. Following the same formula as Croatia's beloved Outlook Festival, 2018's line-up saw chilled and techno acts like Tom Misch and Todd Terje take to the stage. This year, Jordan Rakei and Inner City will be getting the crowd partying.
Flights starting at £200pp: https://www.dealchecker.co.uk/flight-results/92924691.html
The 'Music Lover's' One – AMP Lost and Found, Malta on 2 – 5 May
Photo credit: lostandfoundfestival.com
The legendary Annie Mac will be hosting the 5th Anniversary of AMP Lost and Found Festival in sunny Malta. Guests will enjoy the best acts in dance music, hand-picked by Annie herself, and can choose to attend extra raves in a 500-year-old castle or on a boat party in the Med!
Flights starting at £176pp: https://www.dealchecker.co.uk/flight-results/92924708.html
The '96-hour-party' One – Secret Solstice, Iceland on 21 – 23 June
Photo credit: secretsolstice.is
Where better to celebrate the arrival of the summer solstice than a stunning destination where the sun never sets? Party-goers at Secret Solstice will enjoy 96 hours of sunshine while listening to performances from the likes of Pussy Riot, Rita Ora and Martin Garrix. If you're lucky enough to go VIP, you can also head-off to parties inside glaciers and enjoy helicopter rides across Iceland's impressive landscapes.
Flights starting at £159pp: https://www.dealchecker.co.uk/flight-results/92924744.html
The 'Peaceful' One – Meadows in the Mountains, Bulgaria on 6 – 9 June 2019
Photo credit: meadowsinthemountains.com
For music lovers who appreciate the location as well as the music, head to Meadows in the Mountains. Nestled in the Rhodope Mountains, there are musicians playing on the main stage, chill out pods in the forest and yoga lessons to get involved in. At night enjoy trance music and techno before gathering with likeminded festival-goers to enjoy the sunrise in the green hillside.
Flights starting at £65pp: https://www.dealchecker.co.uk/flight-results/92924767.html
The 'Chic' One – Oasis Festival, Morocco on 13 – 15 September
Photo credit: theoasisfest.com
Oasis Festival, set just a short drive from Marrakech, is a luxury take on the humble music festival, featuring a chic swimming pool and herb-filled gardens. With music from Four Tet and Horse Meat Disco, crowds will be on their feet until the early hours.
Flights starting at £161pp: https://www.dealchecker.co.uk/flight-results/92924791.html
For more invitation and the best deals, visit: https://www.dealchecker.co.uk/
-Ends-
For further press information, please contact:
Arabella Halfhide / Hannah Carlisle / James Brooke
Rooster PR
T: +44 (0) 20 3440 8930
E: dealchecker@rooster.co.uk
W: www.rooster.co.uk
About dealchecker
Founded in 2005, dealchecker is a UK-based travel comparison website, which enables customers to compare flight, holiday, hotel, cruise and car hire prices, alongside reliable and unbiased money-saving deals. For more information, visit www.dealchecker.co.uk
Follow WebBandStand for everything that is cool that matters.