Chichester Roman Week Returns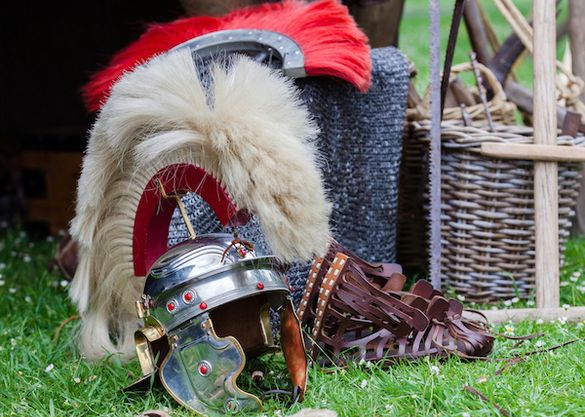 Thinking ahead about what to do this half term? There's lots going on in Chichester for Roman Week (supported using public funding by the National Lottery through Arts Council England), which is set to be bigger and better than ever this year. Featuring re-enactments, talks, trails, guided tours, family activities and immersive theatre, there's something for everyone.
RE-ENACTMENT: Tuesday 28th May, 10am-4pm
Join us in Priory Park for an exciting re-enactment which will bring the Roman period to life.
As well as talks and demonstrations, we will have a range of static displays such as a military camp complete with Roman artillery and a field medicine tent. Other demonstrations will cover aspects of civilian life such as midwifery, religion, slavery, cooking and a mosaicist. This interactive re-enactment will encourage audience participation and spectators are encouraged to dress up.
GUIDED WALKS
GUIDED FAMILY WALK:  Monday 27th & Thursday 30th May, 2-3pm, starting at The Novium Museum
Starting at the Novium Museum, at the site of the Roman Bathhouse, this guided walk will take you back in time through Roman Chichester, from the very beginning to the time the Romans left. This walk is aimed at a family audience.  Booking in advance is recommended, £3 per person
ROMAN CITY WALK: Saturday 26th May, 11am & Wednesday 29th May, 2pm, starting at The Novium Museum
Chichester City Tours are offering walking tours of the City looking at Roman Chichester; seeing real Roman sites; touching what the Romans touched two thousand years ago all helping you to imagine Chichester in Roman times and to understand how the City developed from their occupation. Booking in advance is recommended, £5 per person
CRAFT ACTIVITIES
There are a variety of craft activities taking place throughout the week across a range of attractions in Chichester. These include 'Make Your Own Roman Pot', a broach making workshop and 'Make Your Own Mosaic' at the Novium Museum, 'Make Your Own Roman Standard' at Pallant House Gallery and 'Bibliothecha Fabula Actio' at Chichester Library. *
AN EVENING WITH AUTHOR HARRY SIDEBOTTOM– Thursday 30th May, 7.30pm, Chichester Library. Join bestselling author and Oxford academic Harry Sidebottom, as he takes you on a journey through ancient Rome and Asia and discusses his brand new fast-paced thriller – The Lost Ten – a desperate rescue attempt deep behind enemy lines that will keep you on the edge of your seat! Tickets: £5.00 each available from Chichester Library. (Tickets are non-refundable.)
FISHBOURNE ROMAN PALACE: ROMANS UNDER THE MICROSCOPE– Thursday 30th May 10am-4pm
Discover the science behind how 300,000 Roman artefacts are preserved. Meet the conservation team and learn about the techniques they use. Join the curator on a tour behind the scenes and get a glimpse of the palace's hidden collections, and some of the most recent discoveries.
THE ROMANS IN CHICHESTER HARBOUR
Join a 2 mile walk led by Judi Darley from Chichester Harbour Conservancy, starting at Fishbourne Roman Palace and heading towards Dell Quay in Chichester Harbour, stopping at points of Roman interest along the way. Finish with complimentary coffee in the Conservancy's classroom on the quay before choosing either to walk back on your own or use our minibus. Fee: £10 per person to include coffee and minibus. Book: via www.conservancy.co.uk or phone 01243 513275
BIGNOR ROMAN VILLA: FESTIVAL OF AMBARVALIA – Monday 27th-Friday 31st May
Join the team at Bignor for this festival – the blessing of the Spring crops by the goddess Ceres, and learn about food, farming and religion at one of Roman Britain's most impressive rural residences.  Explore the discovery trail and try your hand at ancient crafts and seasonal activities.
PRIORY PARK ARCHAEOLOGICAL DIG TALK – Tuesday 28th May, 6.30pm at The Novium Museum
Archaeological excavations in Priory Park in 2017 and 2018 revealed the remains of a hot room and Roman Town House. James Kenny, Archaeology Officer at Chichester District Council talks about recent excavations and plans for the future. Booking in advance is recommended, £6 per person
'BATTLE OF THE BOTTLES' Italian wine tasting: Thursday 30th May, 7.00 – 9.30pm at The Novium Museum
The Novium Museum, in partnership with Hennings Wine Merchants, will be hosting a Battle of the Bottles event. Learn more about the place wine held during the Roman era, try a selection of Italian wines and learn more about the Roman exhibitions at the museum. There might even be a traditional Roman wine available to test. Booking in advance is essential, £12 per person.
THE MAKING OF CENTURION: Friday 31st May, 6.30pm at The Novium Museum Join us for a talk by Ian D Fleming, the Second Unit Director of Centurion and hear about his experiences of filming.  Afterwards visit our latest exhibition 'Hollywood Rome' and see if any of the costumes look at all familiar.  Bookingin advance is recommended, £6 per person.
HAVE I GOT ROMAN NEWS FOR YOU: Wednesday 29th May 10am-3pm at The Novium Museum
A drama and film workshop at Novium Museum. Participants will develop, act in and film a 'newsreel' of events from Roman Chichester. Booking in advance is essential, £15 per person. Ages 11–15.
– Ends –
To find out more, how to book, or to see the full schedule of event, visit www.visitchichester.org
About Roman Week
Chichester Roman Week celebrates Chichester's Roman Heritage with a series of events every May half term. In 2019, Chichester Roman Week will run from Saturday, 25th – Friday, 31st May 2019. Led by The Novium Museum, the week-long event brings Roman history to life with a variety of events in and around the Chichester District, including re-enactments, talks, trails, guided tours, family activities and immersive theatre.
Chichester was first established as Noviomagnus Reginorum, which translates to 'New market of the proud people' after the Roman invasion in AD43. Their legacy can be found across the city, including magnificent features such as the Roman walls surrounding the city and the Roman bathhouse located in The Novium Museum.
*MAKE YOUR OWN ROMAN POT  – Thursday 30th May 11am-2pm at The Novium Museum. Make your own Roman pot or oil lamp using images from the museum's collection as inspiration. Booking in advance is recommended, £3
CREATE YOUR OWN MOSAIC– Friday 11am-2pm at The Novium Museum. Create your own mosaic to take home with you. Use your own design or take inspiration from mosaics in the museum. Booking in advance is recommended, £3
MAKE YOUR OWN ROMAN STANDARD– Tuesday 28th– Friday 31st May 10.30am-1pm at Pallant House Gallery. Inspired by Tracey Emin's Roman Standard scultpture in the Pallant House garden, have a go at making your own.  Drop in session on ground floor, suggested donation £3.\\
ROOCH MAKING WORKSHOP – Saturday 25th May 10am-4pm at The Novium Museum. Be inspired by the designs of the zoomorphic Roman brooches in the museum collection and make a bronze brooch, under the guidance of local jeweller Sarah Macrae, using traditional hand tools during this full day workshop. Booking in advance is essential, £25 per person. Suitable for age 18+\
BIBLIOTHECA FABULA ACTIO– Tuesday 28th May 11am-2pm, Chichester Library.
The Romans are invading the library for stories and craft activities – come and join them!  Tickets are free, but please book to avoid disappointment https://www.eventbrite.co.uk/e/bibliotheca-fabula-actio-tickets-55960731053