Bay Scallop Season Returns to Florida's Sports Coast after 25-Year Hiatus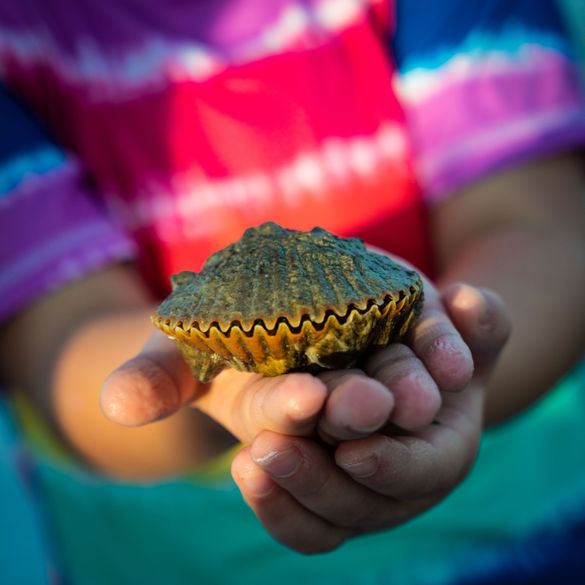 ---
PASCO COUNTY, Fla. – Following an extremely successful 2018 trial season, Florida Fish and Wildlife Conservation Commission has granted Florida's Sports Coast a continued annual scallop season. Prior to last year, scalloping had not been available in the state waters off Pasco County since 1994. The destination will now have a 10-day bay scallop harvest season that will take place the 3rd Friday in July moving forward. This year's season will kick off Friday, July 19-July 28.
"Scalloping is a unique and exciting offering for our destination; we're thrilled to help build lasting memories for families and friends as they scallop with us in the years to come," said Adam Thomas, director of tourism at Experience Florida's Sports Coast.
The waters of Florida's Sports Coast provide for some of the best scalloping found in the state, as they boast an ideal habitat – a trifecta of clean, high-salinity water with low sediment – rendering unmatched conditions for scallop spotting. Scalloping is one of the easier sea adventures (only requires basic swimming skills) making it an ideal excursion to be enjoyed by solo-travelers, families and groups alike – just grab a snorkel, mask and fins! To the recreational snorkelers' delight, a day well spent on the water is often capped with a "cook your catch" dinner. The dime-size sweet scallops are one of Florida's tastiest seafood delicacies and can be baked, broiled, blackened, fried, sautéed or even drenched in citrus for ceviche.
To plan your scalloping getaway to Florida's Sports Coast and for recommended scalloping tips, equipment and additional information, visit https://flsportscoast.com/scalloping.
###
About Florida's Sports Coast
Florida's Sports Coast — the new and exciting identity for Visit Pasco — offers travelers the chance to score once-in-a-lifetime memories with thrilling athletic opportunity. Home to 742 square miles of rolling green hills, scenic coastlines, countless amateur sports venues and complexes, picturesque trails and rich culture, this active destination offers game-
changing experiences for everyone to enjoy — all situated on the beloved Gulf of Mexico. Paying homage to its sports roots, the destination's new tagline, "Let's Play!," celebrates the active traveler, adventurous family, avid angler and lively local in an approachable and spirited way. The sports-inspired lifestyle is celebrated in numerous aspects of today's society and this motto is a promise to travelers that meaningful and epic activities can be found across this energetic destination. Most notably known for being home to the largest hockey complex in the Southeast US, which acted as the Olympic training center for the 2018 Winter Olympics, the destination has redefined the recreational retreat and serves up endless fun for adventure seekers. With 35 area parks, vibrant nature trails, thrilling zip line courses, hot air balloon outings, nearby islands with four artificial reefs, year-round recreational fishing, paddleboard and kayak trails, the options for exploration are unlimited. To learn more about Florida's Sports Coast, visit the DMO's new website www.FLSportsCoast.com or engage with the destination on Instagram, Twitter and Facebook @FLSportsCoast. Let's Play!