The World of Harry PotterTour in UK
"It is important to remember that we all have magic inside us" – JK RowlingGreatdays UK Incoming, established in 1985, is a family run tour operator and DMC specializing in customized tours and exciting bespoke incentives for individuals and groups travelling to London, Great Britain and Ireland.

Let our friendly team of specialists create your perfect vacation full of unforgettable experiences and treasured memories in our beautiful cities and romantic countryside!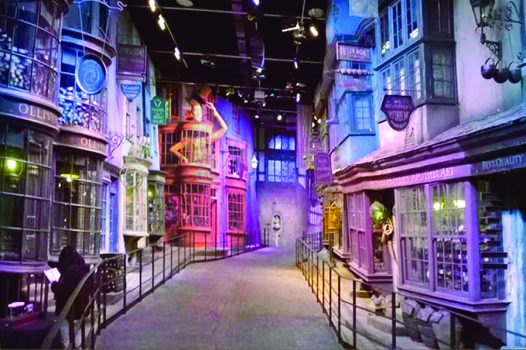 People from around the world have been enchanted by the Harry Potter films for over a decade. The wonderful special effects, amazing creatures, and stunning sets and scenery have made this iconic series beloved to both young and old. A Harry Potter self-drive tour is a fantastic way to step into this magical world and experience the beautiful locations where the movies were filmed at your own pace.

| | |
| --- | --- |
| Tour of the Week Issue 302 | Prices available on request |

ITINERARY SUMMARY

DAY 1

Welcome to England and Windsor Castle

Arrive at Heathrow airport and pick up your rental car. Start your Harry Potter journey with a visit to Windsor Castle and Windsor's Great Park where Harry, Ron and Hermione take refuge in the Deathly Hallows. After lunch, continue to Oxford via picturesque Cotswolds villages with its honey-coloured stone buildings and gently sloping hills.

Overnight in Oxford area.

DAY 2

Oxford and Blenheim Palace

Spend this morning exploring Oxford colleges. Start with Christchurch College where you will see a stone staircase and high-ceilinged dining hall; move then to Duke Humfrey's Library where the restricted book section was filmed; and finish at Bodleian Library where Hogwarts infirmary was filmed in the big-windowed Divinity School. In the afternoon visit nearby Blenheim Palace, home of Sir Winston Churchill.

Overnight in Oxford area.

DAY 3

Gloucester Cathedral and Lacock Abbey

Many scenes showing the mysterious side of Hogwarts were filmed in the fan-vaulted corridors of the Gloucester Cathedral cloisters. After lunch, drive to Lacock. This medieval village dates back to 13th century and much used as film location. Exterior of all houses, pubs, school etc is kept as it was several hundred years ago. In The Sorcerer's Stone, the scene showing Harry being chosen for Gryffindor's Quidditch team was shot in the halls of the 13th century Lacock Abbey.

Overnight in Oxford area.

DAY 4

Stratford-upon-Avon and Durham

After a leisurely breakfast, leave Oxford and drive to Durham. Stop in Stratford-upon-Avon or York on the way for a leg stretch and wander around.

Overnight in Durham.

DAY 5

Alnwick Castle

Spend today exploring Alnwick Castle which was featured as Hogwarts School of Witchcraft and Wizardry in the first two Harry Potter films. Scenes filmed at the Castle include Harry's first Quidditch lesson and the crash-landing of the flying Ford Anglia. Arrive back to Durham in the afternoon and drop off your car.

Overnight in Durham.

DAY 6

Durham Cathedral

This morning explore Durham Cathedral, which you saw in The Sorcerer's Stone where Harry walks with his white owl through a snowy cloister courtyard.  The rest of the day is at your leisure before catching a late afternoon train to London.

Overnight in London.

DAY 7

Harry Potter in London

Enjoy a hop-on hop-off city sightseeing tour of London and see Big Ben and Parliament, Tower Bridge, London Eye and many more sights associated with Harry Potter. Don't forget to stop at King's Cross station and take your pictures of Platform 9 ¾.

Overnight in London.

DAY 8

Warner Bros. Studios

Today you will have the chance to go behind-the-scenes and see many things the camera never showed. From breathtakingly detailed sets to stunning costumes, props and animatronics, Warner Bros. Studio Tour London provides a unique showcase of the extraordinary British artistry, technology and talent that went into making the most successful film series of all time.

Overnight in London.

DAY 9

Free day in London

Free day to explore London on your own.

Overnight in London.

DAY 10

Home Time

Private transfer to Heathrow airport for your return flight home.

---

CLICK HERE FOR FULL DETAILS
Follow WebBandStand for everything that is cool that matters.