What's Happening in Sacramento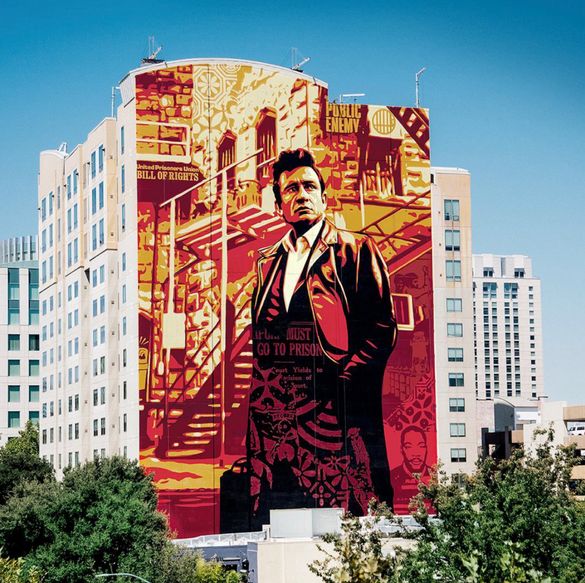 NEW CONSTRUCTION & RENOVATIONS
Downtown Commons (DOCO)
660 J Street
www.docosacramento.com
Downtown Commons, nicknamed DOCO, is a 3-acre plaza featuring the Golden 1 Center arena, cinemas, innovative restaurants, boutiques, the 250-room Kimpton Sawyer Hotel, and a place for people to enjoy outdoor concerts, markets and activities.
Ice Blocks
R street between 16th and 18th streets
The development of historic R street continues with new residential, office and retail openings, including West Elm and Philz Coffee.
The Sofia
2700 Capitol Ave.
bstreettheatre.org/
The Sofia Tsakopoulos Center for the Arts, known simply as The Sofia, is the new, state-of-the-art home of the B Street Theatre, an independent company that has long been a fixture on the city's arts and culture scene. Years in the making, it opened in January 2018 with two stages and a diverse lineup of plays, music and dance performances, speaker series and other entertainment.
The Bank
629 J Street
Sacramento's D.O. Mills Bank Building will soon open as a public space with 10 to 12 local food vendors and several bars over three floors. The identity of the 1912 historic landmark will not be compromised and unique architectural details of the building will remain. The Bank is scheduled to open in late 2018.
Historic R Street Corridor
R Street between 10th and 15th streets
https://rstreetcorridor.com
Once an industrial warehouse district, Sacramento's R Street Corridor is now a bustling entertainment district. Visitors can enjoy a cocktail at the famed Shady Lady Saloon, try some poke at local favorite Fish Face, tour the amazing creations from residents at the Artist's Lofts, and shop in unique boutiques.  R Street continues to see new additions, so even more excitement is yet to come.
NEW HOTELS
The Sawyer
500 J Street
The Kimpton Sawyer Hotel opened in October 2017 adjacent to the Golden 1 Center arena featuring 250 rooms including 35 suites. The boutique property is part of a 16-story, mixed-use building that includes condos and retail space. Dining and entertainment options at the Sawyer include the poolside Revival bar and lounge, Punchbowl Social and the high-end Echo + Rig Steakhouse.
Hampton Inn & Suites Sacramento at CSUS
1875 65th Street
The new, 116-room Hampton Inn near Sacramento State University was completed in February 2018. This four-story property sits across the street from the university and minutes from downtown. Free Wi-Fi and hot breakfast.
Murieta Inn & Spa
The Murieta Inn & Spa opened in January 2018 in Rancho Murieta, just 20 miles east of downtown Sacramento. The 83-room hotel and The Gate restaurant are filled with custom furniture, original art and high-end design touches. Adjacent to the Murieta Equestrian Center, the Murieta Inn & Spa is part of a development that will also include a 140-acre retail center, some housing, and a hotel expansion with 72 extended-stay rooms. The development is expected to be completed at the end of 2018.
TRANSPORTATION
JUMP Bikes
https://jump.com/cities/sacramento/
Red, electric rental bikes that can be found throughout the city of Sacramento. Hop on, and pedal to explore the city.
Sacramento International Airport (SMF)
https://sacramento.aero/smf
Sacramento International Airport, which just turned 50, ranks highest in customer satisfaction among medium-sized airports in North America according to J.D. Power. Additionally, the food and beverage program has been awarded first place for medium-sized airports in the prestigious annual competition sponsored by Airports Council International-North America (ACI-NA). The award is for overall excellence and includes concessions in both Terminal A and Terminal B.
The food and beverage concession program at Sacramento International Airport is a mix of local, regional and national concepts that create a sense of place reflecting Sacramento's role as the gateway to Northern California.  Concessionaires offer locally-sourced, seasonal ingredients, giving customers the opportunity to relax and enjoy meals reflective of America's Farm-to Fork Capital. SMF offers numerous nonstop flights to destinations in the U.S.  Mexico and Canada and one stop flights to destinations around the globe.
RESTAURANTS, BREWERIES, WINERIES & BUBBLES
Fizz Champagne and Bubbles Bar
660 J Street, DOCO
www.fizzinsac.com
More than 40 different champagnes and sparkling wines by the bottle and another 12 by the glass are available at this new addition to Sacramento's Downtown Commons plaza.
Beast + Bounty
1701 R Street, Ice Blocks
www.eatbeastandbounty.com
The innovative and diverse menu will satisfy meat lovers and vegetarians/vegans alike. Light and modern interior.
Urban Roots Brewing
1322 V Street
Neighborhood smokehouse menu of briskets, ribs and sausage pairs beautifully with the diverse beer selection on tap. Expansive outdoor patio features stunning mural and creates an inviting space for adults, families, pets and all visitors.
Ruhstaller 
726 K Street, one block from Golden 1 Center
This new taproom from the famed local brewery encourages guests to taste, chat and linger with new friends.
Device Brewing 
1610 R Street, Ice Blocks
The airy taproom in the hip Ice Blocks is the second location for the popular local brewery.
Alaro Craft Brewery
2004 Capitol Ave
The new Alaro Brewery received a Gold Medal at the 2018 Great American Beer Festival with their very first IPA ever brewed. Congratulations!
Yard House
405 K Street, DOCO
www.yardhouse.com/locations/ca/sacramento/sacramento
This new addition to DOCO offers an extensive pub menu with 110 beers on tap including several local brews.
The Old Sugar Mill
35265 Willow Ave., Clarksburg
http://oldsugarmill.com/
Built in 1934 as an operating beet sugar factory, The Old Sugar Mill now houses 15 wineries offering varietals from all over Northern California. Located in the heart of Clarksburg AVA just 15 minutes south of downtown Sacramento. Events throughout the year.
Raise a Glass in California's Best-Kept Secret Wine Region
The Sacramento region is home to more than 200 wineries and tasting rooms, many of which offer free or affordable tastings and opportunities to meet the winemakers themselves. If time is limited, explore the wineries inside the city. Several downtown Sacramento venues now offer tastes of regional wines. There's the Underground Tasting Room in Old Sacramento, Revolution Wines, 58 Degrees & Holding in Midtown and Downtown & Vine near the Convention Center.
Pedal for Your Next Pint
The Sacramento region is home to an exploding craft beer scene, with more than 60 breweries throughout the area. Visitors can explore local breweries and pedal for their pints aboard this bicycle built for 15.
The 16-passenger Sac Brew Boat cruises on the Sacramento River near Old Sacramento from April through October. Passengers bring their own wine, beer or cider.
Local Roots Food Tours
https://localrootsfoodtours.com/
Explore restaurants, chefs, architecture and history that make Sacramento an exceptional culinary destination.
ARTS AND CULTURE
CELEBRACION DE ALMAS: DIA DE LOS MUERTOS
California Museum
October 12 – December 9, 2018
A new exhibit featuring original art and contemporary altar installations by California artists Francisco Franco, John S. Huerta and Rob-O of I Love Sugar Skulls.
A journey through life, love and death, the exhibit explores the Mexican cultural tradition of honoring deceased loved ones each year on November 1 and 2 by creating calaveras de azúcar (sugar skulls), altares de muertos (altars of the dead) and ofrendas (offerings), which has evolved from the Aztecs to modern-day Mexico and California.
SIKH PROJECT
California Museum
October 27, 2018 – January 27, 2019
Sikhs have been part of the fabric of America for over a century. Though subject to racism and violence since they first immigrated to the U.S., Sikh Americans have experienced increased hate crimes, discrimination, bullying and racial profiling since 9/11. The Sikh Coalition's national traveling exhibit "Sikh Project" challenges misconceptions and bigotry through photographs and accompanying stories capturing the beauty and diversity of the Sikh community in the United States.
The exhibit is presented in recognition of November's California Sikh Awareness and Appreciation Month.
Raymond Dabb Yellland: California Landscape Painter
Crocker Art Museum
October 28, 2018 – January 27, 2019
English-born artist Raymond Dabb Yelland (1848–1900) became an important contributor to the art world of Northern California, from his arrival in 1873 until his early death in 1900. He was esteemed both for his career as a landscape painter and for his dedication to teaching. The 25 landscapes in this exhibition illustrate his transition from the Hudson River School style of painting, which focused on topographically recognizable scenes painted with meticulous, albeit enhanced, realism, to a more loosely painted, evocative aesthetic popularized by the French Barbizon painters. particular manifest the artist's familiarity with Transcendentalist ideas and suggest the spirituality he believed was inherent to California nature.
Broadway Sacramento
Community Center Theater
November 2018 – May 2019
Each year Broadway Sacramento features national touring productions of some of the most popular Broadway shows.
Sacramento Ballet
Various venues
December 2018- May 2019
www.sacballet.org
This season's performances include Beer & Ballet, The Nutcracker and Hamlet
Sacramento Theatre Company
September 2018 – May 2019
1419 H Street
The Sacramento Theatre Company (STC) strives to be the leader in integrating professional theatre with theatre arts education. STC produces engaging professional theatre, provides exceptional theatre training, and uses theatre as a tool for educational engagement.
Street Art Tours 
Sacramento's Wide Open Walls mural festival continues to change the landscape of the city, and the August 2018 mural festival featured local, national and international artists who added to the array of public art – including a stunning tribute to Johnny Cash by Shepard Fairey. The Sacramento Tour Company's walking, running and biking tours explore several of these new murals. Guests will learn about the artwork, artist inspiration, as well as the history of street art in Sacramento and the evolution of street art around the world.
Official Lady Bird Tour
http://sactourcompany.com/ladybirdtours/
Featuring some of the most beloved filming locations from the Golden Globe-winning, Oscar-nominated film Lady Bird. Sacramento native Greta Gerwig's hit film has enchanted audiences since its release in November 2017. The walking tour will feature some of the iconic East Sacramento and Midtown locations filmed in October 2016: McKinley Park Rose Garden, Fab 40s neighborhood, Club Raven and (for those on a running tour) some locations further afield.
SPORTS
The Sacramento Kings  
October 2018 – April 2019
www.nba.com/kings
Sacramento's NBA team is playing its third season in the Golden 1 Center, the new sports and entertainment arena which opened in October 2016.
California International Marathon
December 2, 2018
https://runsra.org/california-international-marathon/
This annual race draws runners from all over the word, offering a spectacular finish at the State Capitol. The CIM is certified and sanctioned by USATF and is a Boston Marathon and US Olympic Trials Marathon qualifier.
EVENTS
Please visit www.sacramento365.com for a complete Sacramento events listing.
Follow WebBandStand for everything that is cool that matters.