The First Dominican Republic Rum Festival 6-7 July 2018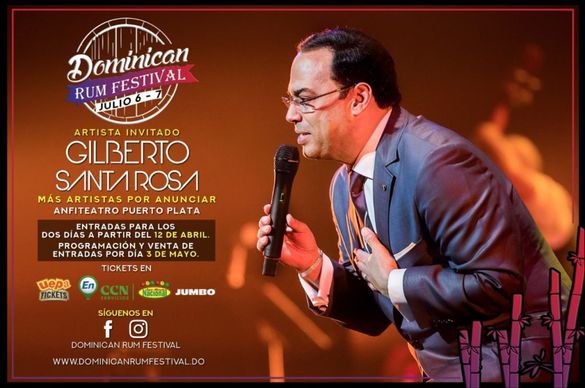 The Dominican Republic is considered one of the most important Rum producing countries in the world. Our festival represents the true spirit of the Dominicans and is more than a rum festival it is also a celebration of local music and food.
Those attending the DOMINICAN RUM FESTIVAL will be able to enjoy a great exhibition of  a verity fine Rums from the Dominican Republic, plus concerts, tastings, seminars, talks, workshops, cocktail parties and gastronomic tastings. Among the special guests for this first version of the Festival is Gilberto Santa Rosa, El Caballero de la Salsa, who will be accompanied by other renowned artists to be announced in due course.
The festival will be held on 6-7 July 2018 at the Puerto Plata Amphitheatre. Do not miss out on the first Dominican Rum Festival in the country.  Come and enjoy typical music such as salsa, ballad, bachata, bolero, which will be played during the Festival.
The Festival will be held in the La Puntilla Urban Park and the Puerto Plata Amphitheatre, where the products of the most important rum manufacturers in the Dominican Republic will be exhibited, along with international brands.
For more information, visit www.dominicanrumfestival.com.do, call (809) 320 1259 or follow the user @dominicanrumfestival on social networks. Or contact Anny Mariel Gómez: E-mails: communications@dominicanrumfestival.com.do info@discoverpuertoplata.com
For further information on the destination please contact: Esther Smith: pr.uk@godominicanrepublic.com Tel/fax: 01962 711239 – Mobile: 07768901197 – Website:  www.godominicanrepublic.com – high res photographs – www.drsmartlibrary.com
About Dominican Republic
Surrounded by the Atlantic Ocean on the north and the Caribbean Sea on the south, our lush tropical and paradisiacal country boasts nearly 1,000 miles (1,609 km) of coastline, 250 miles (402 km) of the world's top beaches, magnificent resorts and hotels, and a variety of sports, recreation and entertainment options. Here you can dance to the pulse pounding thrill of the merengue, renew in our luxurious and diverse accommodations, explore ancient relics of centuries past, delight in delicious Dominican gastronomy or enjoy ecotourism adventures in our magnificent national parks, mountain ranges, rivers and beaches. Known for our warm and hospitable people, Dominican Republic is a destination like no other, featuring astounding nature, intriguing history and rich cultural experiences like music, art and festivals, plus uniquely Dominican specialties such as cigars, rum, chocolate, coffee, merengue, amber and larimar.
Dominican Republic features the best beaches, fascinating history and culture, and is a chosen escape for celebrities, couples and families alike.  Visit Dominican Republic Ministry of Tourism's official website at: www.GoDominicanRepublic.com. Visit the Dominican Republic Ministry of Tourism's official Web site at: www.godominicanrepublic.com or call +44 (0)20 37940661. You can join us on Facebook and Twitter on: http://www.facebook.com/godominicanrepublic – http://twitter.com/dominicanrep_UK;  Download the Go Dominican Republic App, available in the App Store and Google Play
Follow WebBandStand for everything that is cool that matters.