Kandima Maldives Unwraps an Oh-So Kool 2018 Festive Schedule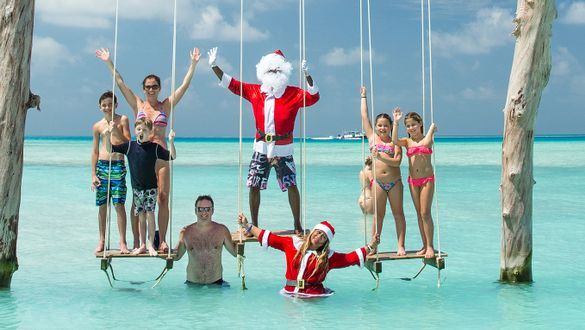 ---
This holiday season, an oh-so yummy blend of delicious cuisine, stylish cocktails and playful entertainment is on offer at Kandima Maldives. The festive programme including delicious dining choices, fun-packed activities for kids, relaxing spa treatments, plenty of sparkling bubbles and fireworks are all part of the Kool celebrations in the island destination.
This year's festive programme includes:
• Music from The Tigers and the UK's Eurovision 2017 singer Holly Brewer.
• Christmas tree lighting ceremony on December 22nd followed by a cocktail party and barefoot BBQ on the beach. After dinner live music from Maldivian band The Shiuz.
• A Christmas Eve TropiKal Cocktail Party on the beach with canapés, oysters and chill out tunes by the resident DJ.
• A four-course set menu at Smoked restaurant featuring prime meat cuts and freshly caught seafood. Plus a traditional Christmas Dinner at the resort's all-day restaurants Flavour and Zest.
• Santa arrival on Christmas Day to hand out festive snacks to the little VIPs.
• A KULA art festival on December 28th where 20 local artists encourage guests to find their inner Picasso. There will also be a KULA colour fun run.
• Fiesta Del Sol party on December 31st kicks off with cocktails and live entertainment on the beach. Both Zest and Flavour restaurants offer scrumptious all-you-can-eat buffet for dinner followed after party on the beach with The Tigers and Holly Brewer. What better way to end the year! The evening ends with an awesome firework display over the tropical lagoon.
• January 1st, a lavish Hangover Breakfast awaits all the guests at Zest and Flavour restaurants, which will be followed by an awesome brunch taking place until 14.30.
For bookings, please contact Rez Krew by email mykindofplace@kandima.com or phone +960 676 0077.
-Ends-
About Kandima Maldives
This new game-changing resort is an affordable lifestyle destination. Kandima Maldives is smart, playful, rooted and responsible. This 3-kilometer resort is a place with an authentic Maldivian soul. It is all about genuine hospitality with a human touch and innovative solutions that make use of the latest technology. Kandima Maldives is under the new hospitality group Pulse Hotels & Resorts, and caters for guests of all ages: families, couples, groups of friends and honeymooners. Whether you seek relaxation, both aquatic and island adventures, wellbeing, fitness or just family time, this 266-room beach resort has something for everybody. With the longest outdoor pool in the Maldives, football pitch, tennis and volleyball courts, Aquaholics water sports and dive centre, Aroma art studio and many more, there is plenty to keep everyone occupied.
About Pulse Hotels & Resorts
Established in 2015, Pulse Hotels and Resorts is an umbrella brand for a range of innovative and contemporary hotels and resorts that are being built upon their core philosophy of being smart, playful, rooted and responsible.  The brand will provide class leading accommodation and facilities with a relaxed ambience and importantly.
Follow WebBandStand for everything that is cool that matters.