Georgetown, Texas Red Poppy Festival With Headline Performer Pat Green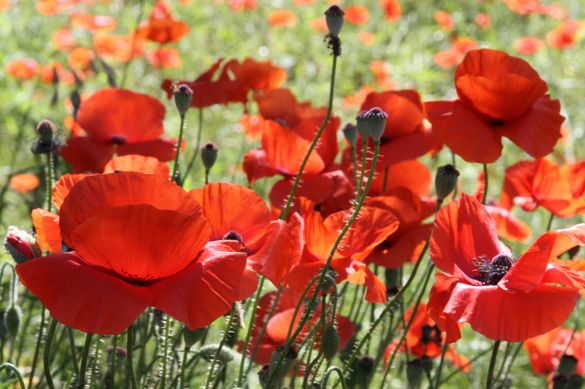 Georgetown, Texas, the "Red Poppy Capital Of Texas," presents the 20th Annual Red Poppy Festival on April 26-28, 2019, #RedPoppy2019. Georgetown, 25 miles north of Austin, is one of the few places in the United States where red poppies grow naturally every spring. In honor of red poppy season, the town celebrates with a weekend full of live music, a parade, a classic car show, local foods and more. To honor the festival's 20th anniversary, Grammy award-winning country artist and Lone Star favorite, Pat Green will perform on Saturday evening, April 27th. All festival events are free.
Located in the "Most Beautiful Town Square in Texas", the weekend-long festival includes the popular "Paint Georgetown Red" parade, the Red Poppy Taste Awards, arts and crafts booths, a food court, live music from local musicians, a kid's play area and much more. The fun begins on Friday night at 6 p.m. with the unveiling of the 20th Anniversary Commemorative Sculpture, and the opening of the arts and crafts booths and food court. The kickoff concert begins at 7 p.m. by 80s cover band Dysfunkshun Junkshun of Austin. Guests are encouraged to bring their own chairs to set up across from the stage.
Before the weekend festivities begin, locals and visitors alike are encouraged to participate in two fitness-related events. The Red Poppy Bike Ride, takes place on April 13 and benefits the SERTOMA scholarship program for Georgetown Independent School District and the Williamson County Children's Advocacy Center. Then, on April 14, the 2019 Red Poppy 5k is hosted by the Georgetown Running Club. It is a timed race and includes awards by age group. Visit their respective websites to learn more and register online.
On Saturday, April 27, festival goers are encouraged to wear red for the "Paint Georgetown Red" parade at 10 a.m. which showcases high school bands, dancers, floats and community organizations. Following the parade at 11 a.m., the Classic Car & Truck Show will present a variety of classic car models for car admirers and guests alike. The Red Poppy Kid's Fun Zone will be open throughout the weekend to keep the kids entertained with an obstacle course, a huge slide, a bounce house, a basketball game and a special playground for toddlers. Events continue into the evening with the Red Poppy Taste Awards presented at 7:20 p.m., followed by live music performances by Mason Lively at 7:30 p.m. and Pat Green's concert at 9:30 p.m. on the Red Poppy Stage.
"As one of the most popular festivals in Central Texas, we welcome thousands of people every year to celebrate the rare red poppy flowers and a full weekend of fun," said Dale Ross, the mayor of Georgetown. "Folks from all around look forward to this annual event, and this year should be a great one as we're expecting the poppies to be abundant and in full bloom." Visit RedPoppyFestival.com for all of the festival info.
History of the Red Poppy in Georgetown
Henry Purl Compton (known as "Okra"), a corporal in the U.S. Army, sent poppy seeds home to his mother from northern France during WWI. Shortly after his mother planted the seeds they quickly spread beyond her home all over town. Even though the poppies do not grow as plentiful as they once did, the citizens of Georgetown work hard to preserve the town, including much of the historic neighborhood just off the Square, and hosting this annual festival in their honor.
About Georgetown, Texas
Established in 1848 as an agricultural trading center, Georgetown, Texas offers historic charm to residents and visitors, boasting one of the state's 26 designated cultural districts and "The Most Beautiful Town Square in Texas." Georgetown is also home of acclaimed historic restorations and a thriving arts scene.
Georgetown is located 25 miles north of Austin, Texas and is the county seat of Williamson County. With a vibrant offering of dining, shopping, art and history, plus miles of parks and trails, Georgetown is the perfect destination for a quick getaway or long-term stay. For more information, visit the websiteand follow on Facebook and Twitter.
Follow WebBandStand for everything that is cool that matters.