Corsican Places Holiday Packages to Famed Food and Music Festivals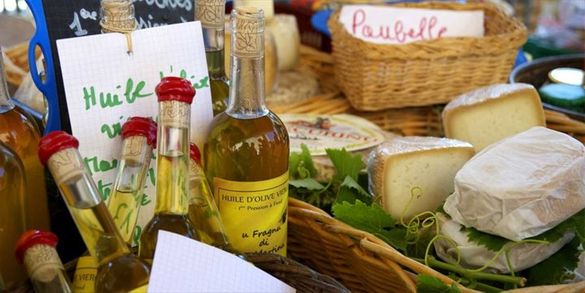 Renowned for its unspoilt beauty, the French island of Corsica with its dramatic mountains, lush interior, fragrant maquis and stunning beaches, hosts many festivals and events throughout the year providing holidaymakers with great insight into its culture, character and traditions. Such events can provide enriching experiences and, with dates released for two of the island's most famous, for food and music lovers, Corsican Places, the UK's destination specialist, highlights sample holiday packages providing perfect places to stay:
Cheese festival – A Fiera di U Casgiu in Venaco – 4th & 5th May 2019
https://www.fromages-corse.org/
A Fiera di U Casgiu, seen on Rick Stein's Mediterranean Escapes, is a two day fayre which takes place in the central town of Venaco on Saturday and Sunday, the 4th and 5th of May. Celebrating its rural cheeses and local produce, food lovers will have great opportunity to sample some of Corsica's finest local cheeses.
To coincide, Corsican Places presents: A 7-night multi-centre package combining A Fiera di U Casgiu festival with an introduction to the north-east, west and central Corsica, highlighting Corsica's mountainous interior and sublime coastline staying at three hotels:
Bastia, N E Corsica – Two nights B&B at the four-star Hôtel des Gouverneurs 
https://www.corsica.co.uk/hotel-des-gouverneurs
This boutique hotel is conveniently located within the historic citadel of Bastia, Corsica's second largest town, with superb harbour views. Guests can walk down to the town's daily food market located within the old Port, which is lined with bars and restaurants and backed by the impressive twin towered Church of St Jean-Baptise.
Corte, Central Corsica – Two nights B&B at the three star Hôtel Arena
https://www.corsica.co.uk/hotel-arena 
Located within the island's geographical centre Hôtel Arena provides an excellent base to attend the cheese fair in Venaco as well as exploring its former capital and the Restonica valley with its stunning mountain waterfalls, gorges and streams.
L'Ile Rousse , N W Corsica – Three nights B&B at the four star Hôtel Santa Maria
https://www.corsica.co.uk/hotel-santa-maria 
This beachside hotel is just a sort stroll from the pretty town of L'Ile Rousse on the Balagne coastline where its daily market provides great opportunity to purchase local produce. A visit to local producers in the hills, where honey, brocciu cheese, charcuterie, and Corsican can be bought is also recommended.
Prices from £998 pp for seven nights B&B based on two sharing. Price includes flights (Stansted-Bastia) and car hire. Corsica.co.uk , 01489 866931.

Music Festival Les Nuits de la Guitare in Patrimonio – 20th to 27th July 2019
https://www.festival-guitare-patrimonio.com/
The impressive amphitheatre in the village of Patrimonio on the north east of Corsica is the setting for the island's famed Nuits de la Guitare. For more than twenty years the "guitar nights" have become the annual meeting place for leading international guitarists in jazz, blues, flamenco, manouche, rock, tzigane, tango and classical music. This year, the event will host Marcus Miller, a famous American jazz composer & bass guitarist, and Selah Sue – an up-and-coming Belgian artist.
To coincide, Corsican Places presents a range of accommodation options in the nearby chic seaside resort of St Florent which include:
Chez Pamela – A one-bedroom apartment in a prime location, enjoying some of St Florent's finest outlooks over its pretty port, while being close to shops bars and restaurants. https://www.corsica.co.uk/chez-pamela 
Prices from £1035pp for seven nights self-catering at Chez Pamela based on two sharing, arriving 21st July. Price includes flights (Stansted-Bastia)and car hire. Corsica.co.uk , 01489 866931.
Corsican Places is a trade name of Serenity Holidays Ltd, a fully bonded operator under ATOL 1866 and a member of ABTA, ABTOT, AITO and IATA. Renowned for its superior service and diverse choice of holidays, Corsican Places received the Silver award for Best Tour Operator to Western Europe and Ireland at the 2018 British Travel Awards held in November. The company' has 30 years' experience in both self-catering and hotel-based holidays throughout Corsica.
For more information or imagery please contact Louise Thomas or Stacey Parsons on 01489 866 963 or email press-office@serenityholidays.co.uk.
Follow WebBandStand for everything that is cool that matters.