Circus Theme for 2019 Blenheim Palace Flower Show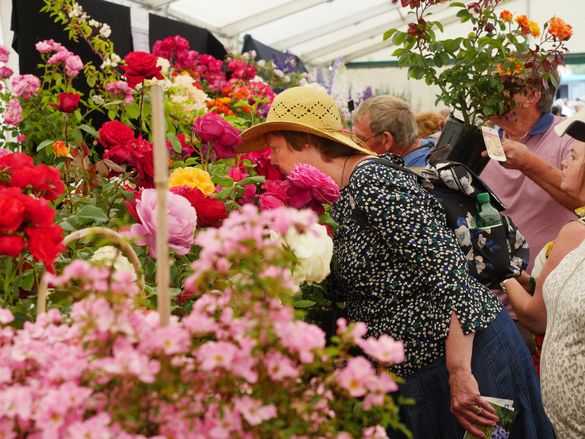 This year's Blenheim Palace Flower Show, which will run from Friday 21 June – Sunday 23 June, 2019, will have a circus theme.
Now in its seventh year the unmissable gardening show returns to the Oxfordshire UNESCO World Heritage Site with a series of exciting new additions.
As part of the spectacular event members of the National Association of Flower Arrangement Societies will be making circus inspired floral designs using a variety of cut flowers.
The Show's Artistic Director, multi-award winning designer, Mig Kimpton, is also embracing the theme by creating a floral carousel following the success of the beautiful Orchid Tunnel he built for last year's show. He will also be hosting a series of floral workshops throughout the show.
For the first time visitors will be able to explore 10 new Plant Borders, created and curated on site by independent gardeners each with their own theme showcasing what can be achieved in a planted border, the perfect inspiration for all gardeners.
The horticultural show features over 300 exhibitors located around a Grand Floral Pavilion, which is situated on the South Lawn of the picturesque Palace, the birthplace of Sir Winston Churchill.
Visitors can enjoy Garden Talks with experts and enthusiasts, fabulous food and drink as well as an outdoor Plant Village and live entertainment throughout the weekend.
Show Director Matthew Upson said:  "Blenheim Palace Flower Show has really established itself as one of the great summer occasions and there couldn't be a finer setting for a flower show than the beautiful landscape of Blenheim Palace."
At the heart of the show will be the 20,000 square foot Grand Floral Pavilion featuring more than 30 floral displays and a large selection of flowers and plants from the UK's finest plantsmen.
Admission to the show includes entry to the Park and Gardens so visitors can also make a day of it exploring Blenheim Palace's Formal Gardens and 2,000 acres of 'Capability' Brown Parkland.
What: Blenheim Palace Flower Show
When: Friday 21 June – Sunday 23 June 2019
Why Visit: Discover an unmissable horticultural event set in the stunning grounds of Blenheim Palace.
Admission: Park & Gardens Ticket required: Adult £16.00 Concession £13.00, Child £7.40, Family (2 Adults & 2 Children) £43.00
Website: blenheimflowershow.co.uk
#blenheimpalaceflowershow
Blenheim Palace Flower Show, Woodstock, Oxford, OX20 1PP
ENDS
For more information please contact Melodie Manners | melodie@flamingo-marketing.co.uk | 01637 873379 or 07815 709548
Notes to Editors
Plant Border Applications are still being taken contact the Show Manager at mig@migkimpton.com.
Blenheim Palace Flower Show returns for its 7thyear in June, 2019. This wonderful three day show celebrates the very best of gardening, home and lifestyle. It is packed with inspiration, flowers and plants and everything you need for your home and garden. The show is a celebration of lifestyle and the great outdoors.
The Grand Floral Pavilion forms the centre of this year's show. Packed with exhibitors showcasing the UK's finest nurseries and plantsman competing for the prestigious Best in Show Award.
The Shopping Village will feature an abundance of trade stands selling everything from unique garden gazebos, greenhouses and arbours to gardening sundries and hundreds of other products from over 250 leading exhibitors.
Our Food and Drink Pavilion will meet you upon your arrival featuring a range of food and drink purveyors and artisans, including tastings and samples.
For gifts and crafts our Home and Country Living Pavilion is filled with a selection of original handmade giftware, jewellery and luxury goods.
About Blenheim Palace
Blenheim Palace is the home of the 12th Duke and Duchess of Marlborough and the birthplace of Sir Winston Churchill. This masterpiece of 18th-century Baroque architecture boasts over 300 years of history and is a World Heritage Site, surrounded by more than 2000 acres of 'Capability Brown' landscaped Parkland and Formal Gardens. Not only an iconic part of history, Blenheim Palace is a living and changing experience with a wealth of events, themed tours and exhibitions throughout the year. blenheimpalace.com
About Aztec Events
Aztec Shows began in 1995 as a family run business and during the past years our shows have attracted well over a million visitors. With events in Cambridgeshire, Essex, Norfolk, Nottinghamshire, Suffolk, Newbury and now Oxfordshire, Aztec have firmly established themselves as one of the Country's leading public consumer show organisers.
Currently Aztec organises around 40 events a year, all have excellent reputations with both exhibitors and the visitors. aztecevents.co.uk