Madison Avenue High Fashion + Skylines: Architectural Fashion Sculptures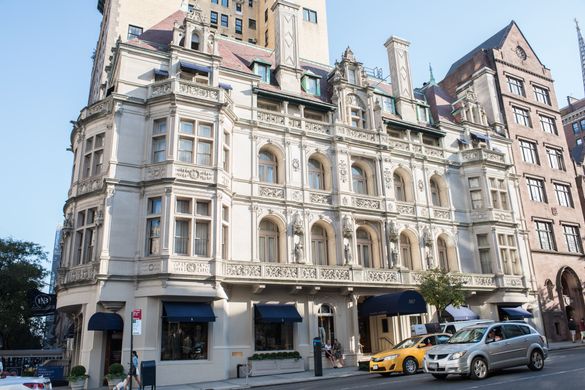 ---
Madison Avenue BID Presents
"High Fashion & Historic Preservation"
During the 7th Annual NYCxDESIGN Festival May 10-22, 2019
Along with an outdoor art exhibition by the School For Visual Arts
"Hemlines From Skylines: Architectural Fashion Sculptures On Madison Avenue"
Madison Avenue will have a prominent role in the 7th annual NYCxDESIGN by sponsoring Madison Avenue: High Fashion & Historic Preservation – An Architectural Walking Tour with the New York Chapter of the American Institute of Architects.
NYC historic district regulations have played a major role in maintaining Madison Avenue's landmark status. Madison Avenue: High Fashion & Historic Preservation is an Architectural Walking Tour discovering the history behind the landmark buildings. John Arbuckle, AIA Preservationist and Architectural Tour Guide will lead the tour.  Design and fashion enthusiasts will discover how high fashion retail has been incorporated to create a contemporary shopping destination. This event is free and open to the public on Tuesday, May 14, and Tuesday, May 21 5pm-7pm.  To register: https://madisonavenuebid.org/event-information/
Madison Avenue BID will also present an outdoor art exhibition by students of the School of Visual Art's 3D Design & BFA Interior Design Departments: "Hemlines From Skylines: Architectural Fashion Sculptures On Madison Avenue."
Each artist selected one iconic NYC skyscraper or institution as inspiration for a dress. Displayed in eight foot "glass cases" the sculptures celebrate 1930s icons while also featuring modern architectural developments and monuments in NYC. Curated by 3D Design Chair Kevin O'Callaghan, and BFA Interior Design Chair Dr. Carol Bentel, in partnership with the Madison Avenue BID. This exhibition will be on view from May 10 – 22.
Madison Avenue BID has partnered with Galerie Magazine to host "Landmarks of Style: Modern Interpretations of Timeless Architecture" – a conversation with editor-in-chief Jacqueline Terrebonne and her panel of leading architects & interior designers. Co-hosted by the Madison Avenue BID in celebration of " Madison Avenue: High Fashion & Historic Preservation." Following the talk, Galerie Magazine will invite their guests to join them for a walk on Madison to view the landmark buildings and experience the contemporary interiors created by the brands at participating boutiques.
Follow WebBandStand for everything that is cool that matters.