New Veggie Basket Scheme in Green Fingered Initiative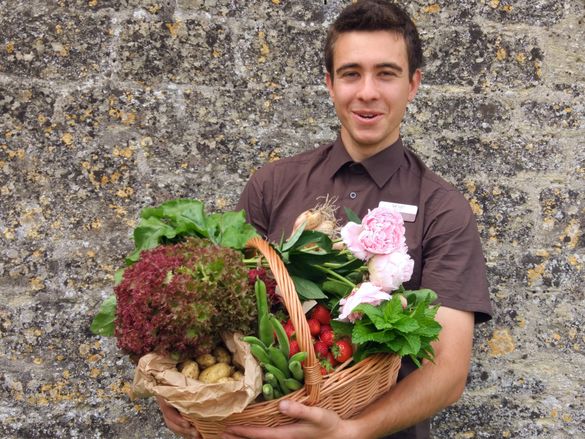 ---
Luxury Family Hotels is pleased to announce the launch of an innovative new vegetable basket scheme at its Woolley Grange Hotel, giving guests the chance to order a basket of fresh garden produce to take home at the end of their stay as well as allowing local residents to join a weekly scheme.
Initially there will be 50 baskets available every week and each will contain a selection of fresh vegetables, salad, fruit and herbs plus a bunch of flowers – all grown in the hotel's extensive grounds.
Keeping with the theme of from field to table, the hotel's current honesty shop situated in the Walled Garden has also been renovated and reopened as The Potting Shed, selling garden produce, eggs, apple juice, honey and homemade goodies from the kitchen.
Caroline Mackay, Marketing Manager of Woolley Grange Hotel, says, "We believe we may be the only hotel to run a garden basket scheme and hope that both guests and local residents will enjoy the fruits of our labour and land.
"Our Head Gardener, Eliza Reid, and her team have scaled up our flower and vegetable growing this year by cultivating the two and a half acres of land opposite the hotel. Our aim is for the hotel to be as self-sufficient as possible from June until November as well as to provide this fantastic opportunity for guests and locals alike to enjoy the fresh produce at home."      
 The freshly grown produce includes potatoes, onions, garlic, broad beans, Jerusalem artichokes, parsnips, turnips, beetroot, leeks, chard and radishes, as well as peas and tomatoes.
This year the gardeners have chosen nine different heirloom varieties of tomatoes and are looking forward to a wonderful array of colours and flavours. They are also growing lots of tasty salad leaves and lettuce, carrots, kales, a huge array of squash, pumpkins, courgettes, cucumbers, French beans and edamame beans, cabbages, corn on the cobs, all sorts of herbs as well as lots of lovely soft fruit.
They are not using any pesticides and are growing in a sustainable way to increase the soil fertility.
Adopting a 'no-dig' approach to all the areas under production, they will be adding huge amounts of mulch to suppress weeds and improve the fertility of the soil. For mulching the team will be making their own Woolley compost as well as using spent hops from local Steam Box Brewery, compost from the council using garden waste road-side collections, recycled newspaper and cardboard and well-rotted cow manure from a local farmer.
Woolley Grange Hotel is passionate about keeping waste to an absolute minimum and their policy is to use only essential packaging, and any used is 100% compostable. Where plastic is necessary (for the mixed salad pack and leafy green bags) a starch-based clear bag that can go in a domestic compost heap will be used.
Special offers:
Midweek Summer Special – treat yourself this summer to an advance purchase midweek dinner-inclusive two, three or four-night break, from £329. Enjoy the hotel and gardens at their best, relax in the spa, visit Bath or take a walk in the beautiful Wiltshire countryside. Dogs welcome too!
Summer Holiday Family Break – Stay for two, three or four nights this summer on our dinner inclusive package and enjoy a complimentary cream tea for two and a spa treatment. Rates from £620 for a two- night break in a Small Family Double.
More information is available at www.luxuryfamilyhotels.co.uk  or by telephoning its Central Reservations team on 0844 482 2152. Children go free when staying in parents' room.
Follow Luxury Family Hotels on Twitter @LFHotels, Facebook www.facebook.com/luxuryfamilyhotels and Instagram luxuryfamilyhotels.
Ends

Follow WebBandStand for everything that is cool that matters.