Explore London's Culinary Community with Evan Evans Small Group Experiences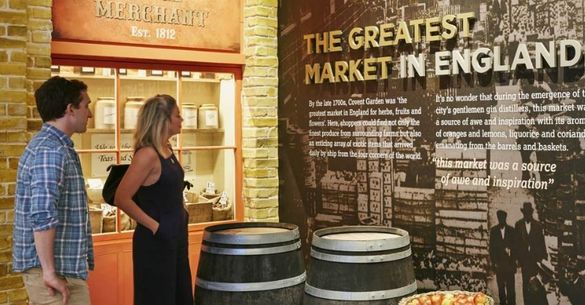 As London's reputation as a food capital continues to grow, Evans Evans wants travelers to experience the incredible variety the historic city has to offer through two of their new small group culinary experiences. These culinary tours offer travelers a perfect way to connect to this city's local culture, whether they are visiting London for a long weekend or for a full-on vacation.
A recipient of the 2018 'Service Provider of the Year' award from UKinbound,Evan Evans provides unforgettable journeys and experiences to Britain's most iconic locations. As London's longest-established and largest sightseeing company, we have been guiding visitors on city tours and out-of-town excursions since 1930. With a group of no more than 16 guests, Evan Evans' two, half-day culinary experiencestake you off the well-beaten path. Our small group size makes for a more intimate and authentic way to connect with our expert tour guides who can give you the inside scoop on historical and contemporary attractions, and with fellow travelers who share a passion for food.
Urban Culinary Experience London is a scrumptious tour will lift the lid on London's thriving artisanal food and dining sector. As you journey into Hackney, the city's trendiest borough, you'll explore dining at a truly local level and learn its grassroots history. Experience pop-up dining with a difference at Eleven98, the brainchild of local chef Aidan Brooks, who welcomes you into his home for a unique two-course culinary experience.  You will also hear from Head Grower, Sophie Verhagen, who will explain where Aidan grows his ingredients and how he sources them. At 58Gin, visit the site of a proudly independent, award-winning gin distillery based under a railway arch in Hackney. Delight in a gin tasting session that explores the unique botanical blends and listen to the story of how Mark 'Moonshine' Marmont was inspired to set up his gin-making business from a kitchen table using traditional alembic copper stills from Portugal. You'll also visit a unique bakery that provides an invaluable service to the local community. Luminary Bakery is committed to providing a supportive environment to female victims of poverty and violence by providing them with skills training and paid employment. (4-hours, from April 1 – Oct. 31)

Borough Market & Gin Distillery Small Group Tour ushers you into London's thriving artisanal food and drink market. Gain an insight into local culture on this alternative tour as you visit the historic Borough Market, the oldest and largest food market in London dating back to 1014. Enjoy the sights and smells of the market as you walk around. Its warren of passageways hides a sprawling cornucopia of everything from traditional British produce to international culinary delight. You'll have ample time to explore the market at your own leisure and indulge in what's on offer, from Sri Lankan street food to charcuterie from South Tyrol and everything else in between. Using our exclusive VOX audio headset technology, a professional tour guide will bring the history of this fantastic market to life on a guided tour that showcases its unique Victorian and Art Deco and architectural features. At London's well-known Gin distilleries, you'll get to taste and learn all about gin. Go behind the scenes and discover how this local distillery produces gin, examine the differences between styles of gin and hear how the various herbs used in the distilling process impact the overall flavor. (4 hours, from April 1 – Oct. 31 and Nov. 1 – March 31)
For more information and reservations, please visit us atwww.evanevanstours.com
or call Evan Evans at (866) 382-6868.
Join the conversation using the hashtags #EvanEvansTours and#MyEvansJourney
on Facebook, Twitter and Instagram.
About Evan Evans
Evan Evans is the longest-established and largest sightseeing company in London, and has been accompanying visitors on city tours and out-of-town excursions since 1930. Our exciting range of tours bring you the best Britain has to offer, from majestic palaces and castles and quaint country villages to the historic cities of Bath, Oxford and Canterbury. All tours are operated to the highest standard of quality on our new fleet of luxury, air-conditioned coaches and are escorted by professional local guides, whose wealth of knowledge and experience will ensure you have a day out to remember
Follow WebBandStand for everything that is cool that matters.