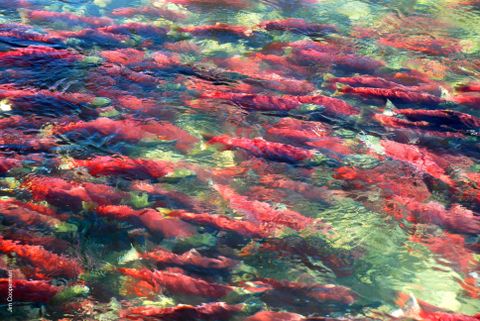 ---
As 2017  ends and Canada's 150th Celebrations draw to a close  here  is a quick round up of  just 14  Canadian 2018 events showcasing how Canada and Canadians celebrates all year round whatever the weather.  
Toronto Light Festival (January 19 – March 11th, 2018)
The Toronto Light Festival will transform the picturesque Distillery Historic District into one of the largest open air galleries in North America, lighting up the long winter nights with distinctive works from local and international light artists. www.torontolightfest.com
Quebec Winter Carnaval  ( 26th January to 11 February 2018)
Since 1894 Quebec Winter Carnival has been and still is the worlds largest winter carnival. The event takes place annually in Quebec City offering over 200 activities including ice canoeing, an international snow sculpture competition,  a night parade with impressive floats, marching bands, and dance troupes. It is ranked as one of the top three carnivals to visit in the world.( www.carnaval.qc.ca/home)
Rio on Ice!
Montreals Musuem of Contemporary Art showcases Leonard Cohen artwork  (through to April 1st 2018)
The Musee D'art Contemporian de Montreal (MAC) is sh owacsing brand new works at Leonard Cohens multidisciplinary exhibition. The new public collection of art work offers works commissioned from and created by local and international artists who were inspired by his style and recurring themes. These artists represent the visual arts, performance art, music, the written word and film, providing visitors with a dynamic and immersive experience. www.mtl.org/en
Toronto Pride (June 24th, 2018)
Toronto is home to one of the worlds largest Pride Celebrations with an attendance of  over 1million people. It includes a special Family Pride programme, Trans Pride and Dyke March and the famous and fabulous Pride Parade (www.pridetoronto.com)
International Montreal Jazz Festival (28th June to 7th July 2018)
Ranked as the worlds largest jazz festival by the Guiness Book of Records, the Festival International de Jazz Montreal has been synonymous with a  passion for music over three decades. Evdery year Montreal welcomes global music fans for 10 days of  jazzcentric celebration, where fans can rub shoulders with aficionados of the genre in its purest form. ( www.montrealjazzfest.com)
Calgary Stampede (6 – 15 July, 2018  )
A  high energy annual rodeo , exhibition and festival held in Alberta's largest city, which offers a true introduction to the Wild West. Daytimes see cowboys and Cowgirls compete in an attempt to reach Showdown Sunday – Rodeo's richest afternoon and win over $2 million in prize money. Evenings are focused on the GMC Rangeland Derby and the TransAlta Grandstand Show which combines nine heats of Four Chuck Wagon Races with elaborate song and dance numbers, acrobatics and fireworks. A two day thrill package costs from  $299 (£185) and includes entry to the Stampede Park, The Rodeo, Evening Show, Westjet Sky Ride Tickets and souvenirs.  (www.calgarystampede.com)
Taste of Edmonton (19 – 28 July)/ Taste of Calgary (August)
Local summer foodie festivals that celebrate talented chefs, local ingredients, and popular restaurants that the cities have to offer. Geared towards food enthusiasts, the festivals offer visitors the chance to sample dishes from a wide range of cooking styles. Complementing the range of flavours are live performances by local musicians. Free Event entry. Food sampling tickets from around $1.00 (around 60 pence). (www.tasteofedm.com/www.tasteofcalgary.com)
Medicine Hat Exhibition and Stampede (25 – 28 July )
One of the oldest stampedes in North America ,a trip to Medicine hat's annual event offers a great taste of the Wild West and a chance to explore a lesser known area of Alberta, The Badlands. Find it three hours drive from Calgary. Entry Costs from $20 (£12.50) for adults and $14 (around £8.70) for children aged 12 and under . www.mhstampede.com
Just for Laughs ( 1 – 31st July, 2018)
The world's  largest comedy festival, Just for Laughs, tickles Montreal into a laughing frenzy each summer with galas, street art, theatre productions and stand up performances. Hosting some 1700 artists from 19 countries as well as over 2 million festival goers, Just for Laughs overs 1600 performances including 1200 Free outdoor shows (www.hahaha.com)
Prince Edward Island calls all Shellfish Lovers  in The Autumn
PEI is proud of its "clean and green" reputation  world wide and offers visitors a wonderful opportunity to tour and taste some of the best the island has to offer. The farmers and fishermen provide the ingredients and award winning chefs turn them  into culinary masterpieces. Foodies can sample these masterpieces at the PEI International Shell Fish Festival, a lively 3 days filled with mussels, oysters , music and intensely exciting shucking competitions.  In late September more than 75 events pack the Fall Flavours Festival agenda. Culinary keeners go  from smoking and pickling workshops to oyster tonging and potato picking to spectactual fine dining with top chefs cooking up 9 course extravaganzas. www.fallflavours.ca/events/event/pei-international-shellfish-festival
Nuit Blanche Toronto (September 29th, 2018)
The all night contemporary art event Nuit Blanche Toronto returns on September 29th , 2018 for its 13 edition. For 2018 , London based curator Karen Alexander, presents a monumental exhibition  " We All Have stories" featuring contemporary artists from across Britain, including Maria Amidu, Dubmorphology – Gary Stewart and Trevor Mathison, Gayle Chong Kwan, Hew Locke, Tal Rosner, and Harold Offeh (www.nbto.com)
Jasper Dark Sky Festival (October 2018) )
As daylight hours begin to recede in Jasper National Park, star gazers come out to explore the night sky. Named one of Canada's largest Dark Sky Preserves, Jasper National Park has very little light pollution , making it an idea destination to see the stars. Lucky Star gazers are sometimes treated to a performance by the elusive northern lights. During the festival, night sky experts gather to provide tours of the constellations, stars and planets above, whilst during the daytime, space related activities take place around the Rocky Mountain town of Jasper. Most events are free but some activities might be ticketed. (www.jasperdarksky.travel)
Adams River Salmon Run  (October 2018)
2018 is a dominant year for spawning salmon in the  Adams River, northwest of Salmon Arm, British Columbia. Millions of brightly   coloured fish fight their way upstream to the place of their birth. For visitors this creates a unique sight as the river teems with colour and movement. Along with the Salmon viewing opportunities the Salute to the Sockeye festival in Roderick Haig-Brown Provincial Park runs through the month of October 2018, with additional fish themed activities and interpretive tours (www.salmonsociety.com)
Winter Storm Watching Fogo Island  (Fogo Island Inn As featured on BBC 2 Life Beyond the Lobby series)
Winter on Fogo Island might make a believer out of even the most entrenched fair weather lover, when blankets of snow, frozen ponds, and clear crisp  sunshine create an inland playground of trails, both well travelled and yet to be forged. Explore the islands interior via snowmobile or snowshow, sled or iceskate and marvel at the unique , rugged and untamed landscape here at the very edge of the North American continent. From storm watching to caribou tracking, inland cabin visits or cosy evenings spent by a wood stove, the dramatic winter months and magical, moving Pack Ice Season instill  in all the utmost sense of adventure, fun and relaxation.( www.newfoundlandlabrador.com )
For more ideas on 2018 events and festivals please contact Ms.Nim Singh, Destination Canada 0207 389 9983 singh.nim@destinationcanada.com (not for publication). For ideas on more events, festivals, story ideas, images and video please go to www.destinationcanada.com.
Follow WebBandStand for everything that is cool that matters.