Victoria, Australia dining, drinking, entertainment news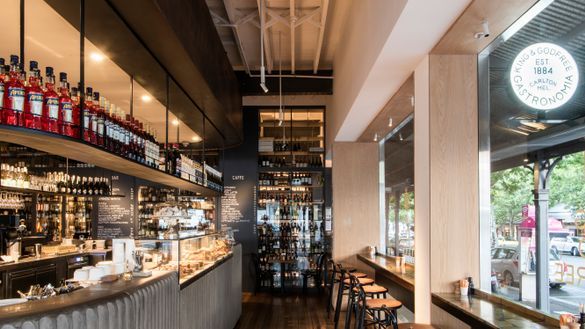 Neighbourhood
Melbourne's northern suburbs have seen a number of new culinary venues open their doors in the last couple of months. The much-anticipated re-opening of Lygon Street's King and Godfree has lived up to expectations as a microcosm of Italian culture. After three years, the corner venue has opened as an espresso bar, an Italian delicatessen, grocery store, wine bar and restaurant, and stunning rooftop bar. 293-297 Lygon Street, Carlton, Victoria. (03) 9347 1619.
Pizza has always been synonymous with the area but the team behind southside establishment Leonard's House of Love has opened their second establishment with Leonards Pizza Palace. The seventies-style restaurant is a perfect place to kick off the night with old-school Italian pizzas and a buzzing front bar. 29 Grattan Street, Carlton, Victoria, 3053. (03) 9242 0666.
Sibling by Kinfolk opened their Carlton North door in the lead up with Christmas. As the name suggests, the café is the sibling to the city's Kinfolk and carriers the similarly strong ethos of social enterprise with the café staffed by volunteers and 100 percent of profits donated to the Asylum Seeker Resource Centre and Cathy Freeman Foundation. 611 Nicholson Street, Carlton North, Victoria, 3054. 0421 726 901.
Neighbouring Fitzroy has seen restaurant Messer change tactic with a new focus on becoming a modern Berlin diner. Owner-chef Ashley Davis saw a style of cuisine underrepresented in Melbourne, so he has kept the restaurant's German name but changed the menu and drinks list. Shop 1, 166 Gertrude Street Fitzroy, Victoria, 3205. (03) 9419 0035.
Meanwhile, Clifton Hill is now home to a new untraditional venue with Grau Projekt to showcase an artist every six weeks with artist-curated drinking. A 1000-square-metre warehouse will house the new art gallery and cocktail bar with a one-off cocktail created in collaboration with the artist in residence. Level 1 2-12 Alexandra Parade, Clifton Hill, Victoria, 3068.
Further south, the former Great Britain Hotel on Church Street has been reborn as gastro-pub Harlow. The rock'n'roll pub has been completely transformed into an all-occasions venue, which includes a split-level beer garden that can host up to 250 people. 447 Church St, Richmond, Victoria, 3121. (03) 9810 0082.
Down the road on Burnley Street, a new Japanese eatery Mr Joe All Day has opened offering casual dining with a twist. Owners Martin and Yang Sun have created a minimal design and laid-back atmosphere where food is the hero and Japanese beer served from a tap. 362-364 Burnley Street, Richmond, Victoria, 3121. (03)7013 0301.
Australian chart-topping electro-pop duo Peking Duk will have a permanent presence in the Australian music capital after the pair turned their talents to the hospitality world with a new bar in South Yarra. Talk to Me is an Asian-American fusion diner and bar, inspired by their favourite global destinations, and visitors shouldn't be surprised to see band members Adam Hyde and Reuben Styles occasionally DJing in the venue's courtyard. 153 Commercial Road, South Yarra, Victoria, 3141. 0409 100 339.
It's a new year and new focus for South Melbourne fine diner Lûmé Restaurant. After three years at the helm, executive chef and co-owner Shaun Quade will turn his focus to a new venture in LA and hand over the tongs to rising star John Rivera. The 25-year-old young gun will bring a more casual approach and lower price point to the new look restaurant, which will now offer three, five or eight courses. 226 Coventry St, South Melbourne, Victoria, 3205. (03) 9690 0185.
Beachside neighbourhood St Kilda continues to undergo a revival. Following the redevelopment of the accommodation at The Prince Hotel earlier last year, the iconic venue has now opened their new restaurant the Prince Dining Room. Formerly Circa, the dining room has undergone significant renovation and now features a menu designed to share and inspired by the robust flavours and spices of the Mediterranean rim. 2 Acland St, St Kilda, Victoria, 3182. (03) 9536 1122.
Around the bay, Williamstown has got a taste of San Sebastian will the opening of Sebastian Beach Grill and Bar. The spectacular waterfront venue, located on the edge of Williamstown Beach with a spacious deck overlooking the bay, is all about sharing food with friends and family. The Spanish restaurant champions seafood from the charcoal grill and offers visitors sangria on tap to refresh after a day on the sand. 26 Esplanade, Williamstown, Victoria, 3016. (03) 9088 8989.
Regional
Follow WebBandStand for everything that is cool that matters.